Best Gaming Pc Under 1000
If you are a gamer and wanted to play games on PC and planning to buy or build your own PC but on the other hand your budget is limited and cannot spend more than $1000 but also wanted the best performance under your budget then you are at a perfect stop. Today here we are going to discuss the best gaming pc under 1000 which you can own in 2021 and also flex your gaming experience to another level.
Let me first of all clear about the CPU or processor which we are going to use in this particular build is an AMD-based CPU so if you're an Intel fan then we are really sorry you can comment and on the next build we will let you know about the best Intel-based PC build. The real reason why we choose or prefer AMD CPU over Intel is simple at present there is literally no competition for AMD in the market as they build their CPU over 7nm process and moreover, if you wanted to build a gaming PC then you must use AMD processor otherwise you can't get the best performance which you are expected from your gaming PC.
Best Gaming Pc Under 1000
So let's now discuss our gaming PC build which is going to be price under the budget of $1000 and will deliver you best performance more than you expected from your budget segment PC build.
Quick Overview Over Components:
First of all, let's quickly overview the components we are going to use in our $1000 budget PC build which will be going to provide you the best gaming experience at ultra graphics settings over 1080p and some games over 1440p which is over the mark for any budget category PC build.
From my point of view, no build at this price rate can be better than what I am going to tell you. If you use the same components I use you will surely end up playing your favorite modern AAA gaming titles with good graphics and high fps leads you to play games with smoothness.
Key Specs of the Build:
| | | |
| --- | --- | --- |
| Component | Model | Link |
| Processor | AMD Ryzen 5 3600 | Click Here |
| Motherboard | MSI MAG B550 TOMAHAWK Gaming Motherboard | Click Here |
| Graphics Card | XFX RX 5700 XT | Click Here |
| RAM | TEAMGROUP T-Force Vulcan Z DDR4 16GB | Click Here |
| Storage (SDD) | Crucial P2 1TB NVMe M.2 SSD | Click Here |
| Power Supply (PSU) | Thermaltake Smart 700W 80+ White Certified PSU | Click Here |
| Cabinet | MSI Mid-Tower PC Gaming Case | Click Here |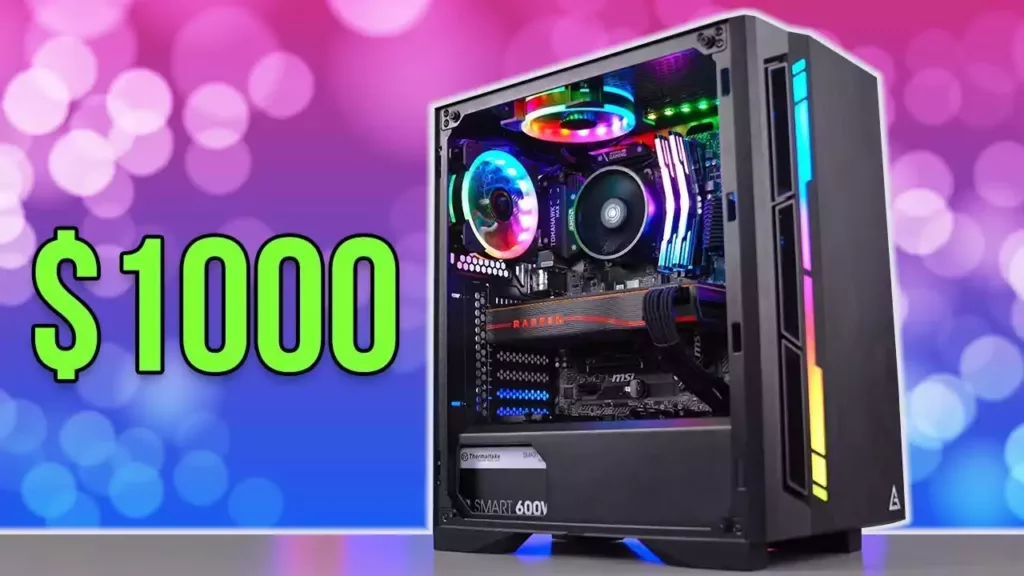 More About Components
Processor:
The Processor we are going to use here is AMD Ryzen 5 3600 which is according to me is the best processor in this price range. Ryzen 5 3600 is 6 cores 12 thread processor based on a 7 nm process.
If you want to buy an Intel processor then you can go with Intel 5 10400F which is available at a similar price range but if you really wanted to game and need your PC to give its best then I suggest you go with AMD based processor. There are some other choices also available for AMD processors which you can use in your build. They are Ryzen 5 3500, 3500X, and much more even the 2nd gen Ryzen 7 processor is good at this price range.
Motherboard:
MSI MAG B550 TOMAHAWK gaming motherboard is a perfect board for this PC build which comes with a gaming design and little work of RGB. In case if in the future you plan to upgrade your processor with the latest Ryzen 5000 series then with this amazing motherboard you can definitely do it without buying a new board.
Graphics Card:
We are using here 5700 XT graphics card which is more than enough for this price range PC and is capable of running games easily and smoothly with good fps. You can also go with Nvidia's graphics card if you find one, you may already familiar with the current situation of availability of graphics card it is like an impossible task due to the shortage of supply Graphics card isn't available in the market.
To find Nvidia's GPU is more difficult that's why I suggest you go with AMD RX 5700 XT GPU which is good enough to play high-resolution games with the best fps and graphics also it is available in the market at present so you may be able to find one soon.
RAM:
Team Group T-Force is the RAM kit we are going to use in this build it is a 16 GB 3000 MHz RAM kit with a gaming design that justifies its price. If you are having a tight budget then you can also prefer an 8 GB RAM stick but using a 16 GB RAM kit will boost your gaming experience so you can smoothly enjoy your gaming.
Storage (SSD):
We are going to use 1 TB NVMe M.2 SSD of the crucial brand which comes with speed up to 2400MB/s which is perfect at this price range also justifies its price and suits our $1000 budget PC build perfectly.
Power Supply (PSU):
We are using Thermaltake Smart 700W power supply which is an 80+ White Certified PSU. You can also buy a 650W or 600W PSU if you cannot spend this amount but the power supply we choose is the best supply at this price and will suit our build it is all up to you that with which you go.
PC Case (Cabinet):
There are plenty of options available in the market for cabinet selection of PC you could go with anyone like cooler master or Thermaltake but I select MSI case because of its looks and RGB effect which will help our build to be more effective and arrogant moreover, this case is having a good airflow which let your CPU cool for most of the time.
Also Read: Best Gaming Laptops Under $1000, Budget Gaming Laptops You Can Grab in 2021