What are eGPUs? Why are they needed for your laptops? and many more questions may arise in your mind but be patient here we will tell you all the necessity and valuable knowledge that you must have about the eGPU for your laptops. Here we will list some of the best external graphics card which you could buy right now to experience next-level graphics demanding tasks in your ultraportable laptops.
The first and the most important thing that you must check before going any further is the Thunderbolt 3 port on your laptop. If your laptop doesn't have one then you couldn't attach your external graphics card with your laptop. By attaching an eGPU with your laptop Thunderbolt 3 port you can enjoy the benefits provided by any of the Nvidia or AMD graphics card.
So in a simple word, if we describe an eGPU then we could say that eGPUs are made for upgrade your ultraportable or working laptops which is not capable of playing games and run any graphic demanding application, with the use of eGPUs you can upgrade your laptop to the next level and enjoy all the stuff that is offered by any other companies GPU like Nvidia and AMD.
Best External Graphics Card in 2021
To be honest there might not many choices available for you in the market to choose an eGPU but among the all available still, it might be confusing for anyone to make the correct choice. Below listed eGPUs is according to me the best for you and ranked according to my personal opinion you may choose your one according to your needs and budget.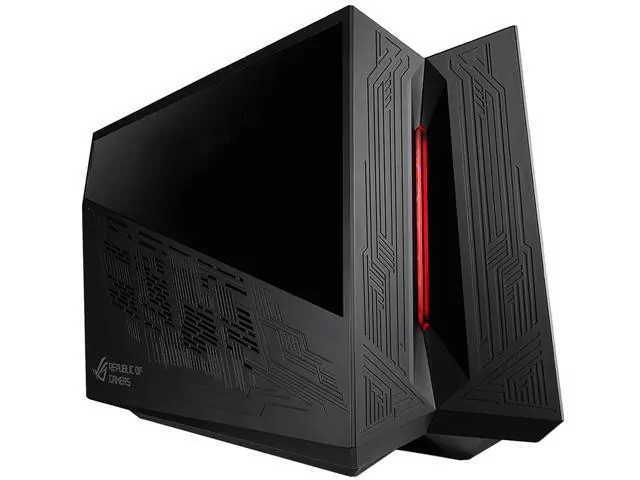 1. ASUS ROG XG Station 2
ASUS ROG XG Station 2 may be the best of all the external graphics cards available at present but on the other hand, one of the biggest downfalls of this eGPU is its price tag. ROG XG Station 2 is the second most expensive eGPU after Aorus GTX 1070 Gaming Box. However, if you could pay $549.99 for this amazing eGPU then there is no limit for your experience as this is the best you could find in the market at present.
Ports: Ports used here are four USB 3.0 ports, one USB 3.0 Type-B port, a Gigabit Ethernet, a Thunderbolt 3, and a power port all mounted in the rear.
Accessibility: It is very simple and easy to use the ASUS ROG XG Station 2 eGPU. All you have to do is slide the long button on the top right toward the back of the box, and both sides fall away, the card will be open. Now you just have to put the Graphics card you wanted to use for your laptop.
Price: As we already discussed earlier also the XG station 2 is the second most expensive eGPU with a price tag of $549.99 after Aorus GTX 1070 Gaming Box which costs around $589.99. However, the Aorus comes with a built-in GTX 1070 GPU; supplying the same card for the ROG XG Station 2 costs us $419.99, which brings the total price of the Asus to $969.98.
Also Read: BEST GRAPHICS CARD 2021: TOP GRAPHICS CARD TO BUY AT PRESENT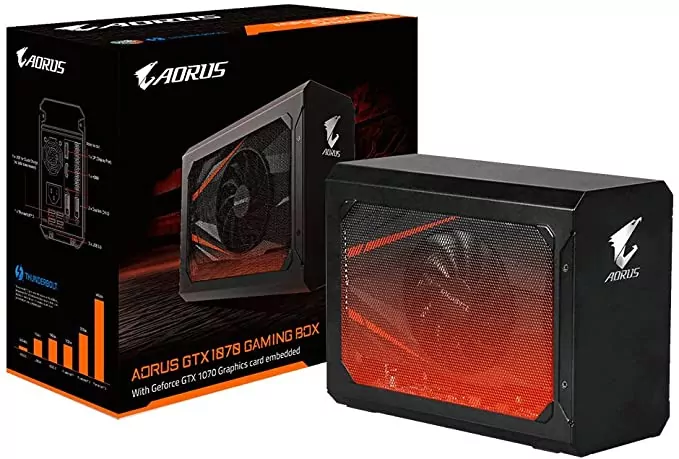 2. Aorus GTX 1070 Gaming Box
Aorus GTX 1070 gaming box comes with a pre-installed GTX 1070 graphics card which made this eGPU special, you don't have to spend any amount of money on a separate GPU. Maybe you can consider this eGPU as the most expensive external GPU but according to me, this is the cheapest one. As we said earlier also the Aorus gaming box comes with a pre-installed 1070 GPU which means there's no need to spend extra money to buy a separate GPU than a gaming box.
Ports: The Aorus GTX 1070 gaming box features three USB 3.0 ports, an orange quick-charge USB 3.0 port, an HDMI, a DisplayPort, a pair of DVI-2 ports, a Thunderbolt 3, and the power jack.
Accessibility: Nothing like other eGPUs this external graphics card features its own 1070 GPU which makes this eGPU much easier to use. The box is sealed, so you don't have the luxury of switching out the graphics card at a later date.
Price: The first look at the price of the Aorus gaming box may afraid of you as it is the most expensive eGPU which costs $589.99. However, since it comes pre-installed with a GPU, you don't have to worry about shelling out even more money for a graphics card. That makes it the cheapest option in the long run.
3. Razer Core X
Razer Core X is an affordable $299 eGPU that offers a bigger chassis, perfect for installing massive GPUs like the Nvidia GeForce GTX Titan V while eliminating the USB and Ethernet ports. This is the first eGPU from Razer which is specially designed to make it compatible to use with Apple Macs. However, fans of Razer's Chroma lighting will be disappointed as the Core X lacks the colorful customization feature.
Ports: At the back of the Razer core X we could find a Thunderbolt 3 port and the power input.
Compatibility: Like the previous Razer Core V2, Core X also works with dual and quad-lane Thunderbolt 3 notebooks. Also, Razer core X is the first-ever eGPU from Razer which can support working with Apple Macbooks.
Price: As for the pricing Razer's core X is one of the company's cheapest eGPU which costs users only $299. For the price, you still get Razer's premium build quality along with a space large enough to fit some of the most powerful graphics cards on the market.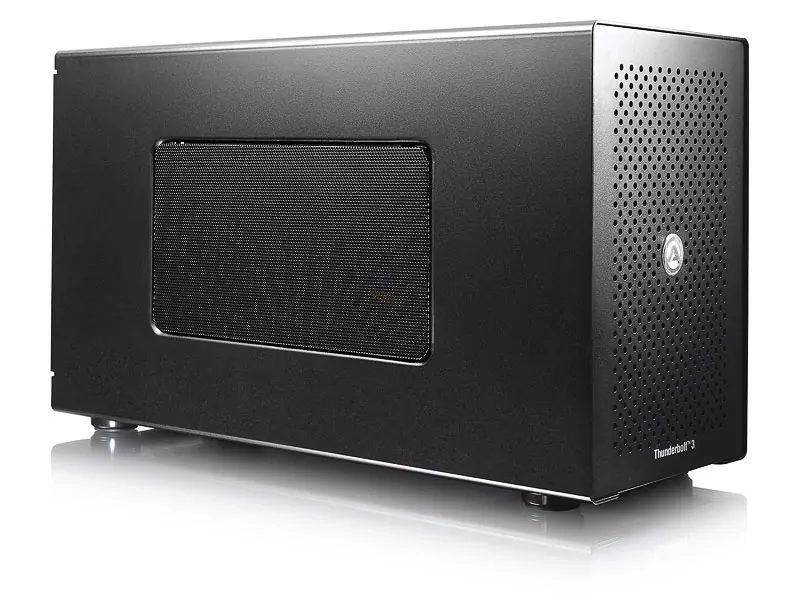 4. AKiTiO Node
According to my personal review, this is not so good for you to buy as if we see its design its some kind of boring along side the ports offers in this eGPU is nothing. Also, if we talk about its compatibility then also we are not too sure that if this eGPU will work with your ultraportable laptop or not.
Ports: There are only a Thunderbolt 3 port and a power port in this eGPU which is considered to other eGPUs are nothing. Also, you have to forget any and all thoughts of VR due to the lack of a USB 3.0 port.
Accessibility: The most difficult thing is to use the AKiTiO Node, the first difficulty we face is to open the Node eGPU. There is a large handle in the back which is a non -intuitive, as my first inclination was to pull outward rather than push inward. Now the other difficulty you will face is to install a GPU inside it.
Price: As for the pricing AKiTiO node is one of the cheapest eGPU in the listing with costs only $268. But if we compare it with the Aorus gaming box which comes with a pre-install 1070 GPU, Node is still way more expensive than a gaming box that is why it is not suited to buy.
These are the list of the best External graphics card you could buy in 2021. To find the products online with pricing you can visit Amazon.com.
Also Read: IN ANOTHER WORLD WITH MY SMARTPHONE SEASON 2: EVERYTHING YOU MUST KNOW ABOUT NEXT SEASON