Artificial Intelligence (AI) has become a great part of today's world. Most of the work can be done by these applications and software. OpenAI is one of the biggest and most popular names in the AI world. But sometimes these programs may show errors and issues that can annoy any user. And one such common and annoying error that OpenAI users are facing these days is the "OpenAI Global Rate Limit Exceeded" Error.
This error message displays on the user's screen when they try to log into their account. And try to use the OpenAI apps like ChatGPT, Dall E2, Chat GPT Playground, etc. The full error that got displayed on the user's screen is:
Whoa There!
You might need to wait a bit." followed by "Currently we are receiving requests than we are comfortable with!

To try your request again, come back in short while and reload this page." followed by "Global rate limit exceeded".
If you're also facing the same error then you're in the same boat and you might want some quick and easy fixes to solve it. If yes then keep reading the article here we will be going to tell you how you can easily fix the "OpenAI Global Rate Limit Exceeded" Issue.
What Exactly is the "OpenAI Global Rate Limit Exceeded" Issue?
There are literally too many error messages present on the apps and programs of the modern world. AI applications are no different AI users also face error messages and issues and one error that many OpenAI users reported is that "OpenAI Global rate Limit Exceeded".
But what does this error message mean? To be precise and simple we can say that the servers of the OpenAI application are overloading and can't handle more users at present. You all might know that apps and sites use servers to store users' data and retrieve data.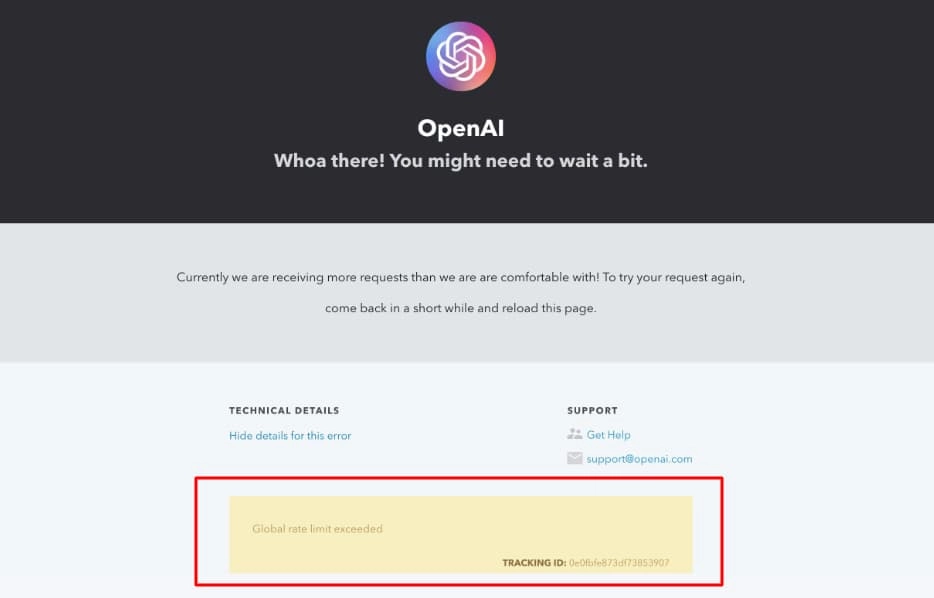 These servers also have limits if there is a huge number of users that are using the application at a time then the server might overload and stop working. At that time it will show an error message indicating that the services might get interrupted or the limit is exceeded.
That's why the OpenAI application shows the "Global Rate Limit Exceeded" error. The OpenAI servers also work in the same way. And can only handle a limited number of users. if that number is exceeded then the servers will show this error message to the user.
What Causes the OpenAI Global Rate Limit Exceeded Error?
There are different causes that may lead to this error on your OpenAI application. Some of the most common reasons are:
OpenAI Servers are down or overloaded.
You haven't created an account yet.
The problem is with your Browser.
How to Fix the "OpenAI Global Rate Limit Exceeded" Error?
There are many ways to fix this issue on OpenAI some of the easiest and best ones are below:
Fix #1. Check for ChatGPT Server Status
Before moving to any other fix the first thing you need to make sure is that ChatGPT servers are working properly. If the problem lies with the server of the app then you cannot fix it until or unless the server restores its services.
To check out for the downing of the servers of ChatGPT visit https://status.openai.com/ and check if the servers are operational or not. And if the server status shows that the servers aren't working properly. Then wait for some time until the restoration of the services.
Fix #2. Create OpenAI Account and Login
After checking the servers of OpenAI the next thing you need to make sure of is that you're logged in to a valid account. If not then create a new account and log in again. To create an account on OpenAI follow the steps below:
Open chat.openai.com.
If you already have an account then click on the Login button and if not then click on Sign up.
After clicking on the sign-up button you will get redirected to a new tab. There you will ask to provide your valid email id and mobile number.
After entering the correct details follow the instructions given on the screen.
At last, after following all the instructions properly you will be needed to enter the OTP sent to your mobile number.
Once you created an account go back to the chat.openai.com site and click on the Login option. Enter the valid credentials and check if the error is fixed or not.
Fix #3. Use Another Browser
The problem might lie with your Browser if there is corrupted data and cache files pile up. Then the browser might misfunction and show such error messages on sites. So if you're doubting that this might be the case.
Then we recommend you use another browser. If you're currently using Google Chrome then try using Mozilla Firefox and see if the site work properly.
Conclusion
In the above article, we discuss some easy and quick fixes to solve the "OpenAI Global Rate Limit Exceeded" Error. But in case you still can't fix your problem and want our further guidance then feel free to contact us anytime. We will try to reach out and help you as soon as possible.