Pinterest is one of the famous and most popular social media applications around the world. Pinterest has millions of active users that use the app every month. It is an image-based social media app where you share images and videos and calls them pins. You can also give those images and video links and descriptions. With such a huge user base, many users still don't know how to properly use the Pinterest app. If you're one of those users and wondering how to add topics on Pinterest? Then you're at the right stop.
Here in this article, we will be going to tell you how you can add topics on Pinterest easily and will also share a guide on how to follow different topics and Pinterest. But before moving to the main topic let us first discuss what exactly Pinterest topics are below.
What Exactly is Pinterest Topic?
If you're a Pinterest user then you might already know about Pinterest topics but if you don't know about them then just read this section and you will get a clear understanding of what exactly are Pinterest topics.
Pinterest topics are the categories that you see on websites and apps. These topics divide the content of the applications into different groups. Pinterest topics can be anything that is posted on the application according to users' interests.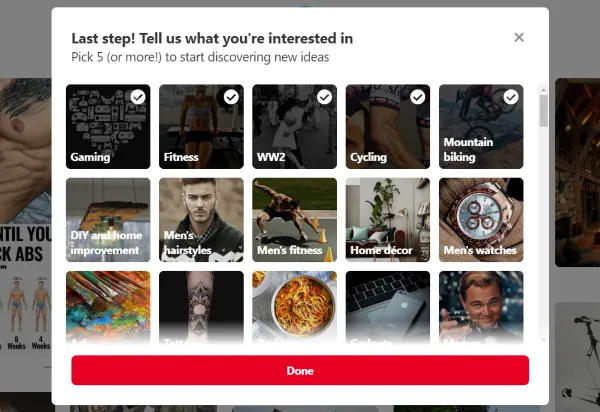 Like if you like to see content related to entertainment then you can follow or add the entertainment topic. Just like these topics are divided into broad ranges like movies, songs, nature, tech, etc. Pinner who posted the content on these topics needs to add correct hashtags so that the pin or post will appear on the relevant or correct topic.
In short, we can conclude that Pinterest topics divide the pins or content posted on the application. Users can follow a pinner or a topic to get relevant or related content to that topic. Almost every topic is available on the platform and you can follow up on any topic according to your interest. Also Pinner, that posts content on the platform needs to use or add correct hashtags in order to show that content on the correct topic.
How to Add or Follow Topics on Pinterest?
Now let's move to the main topic and start discussing how to add or follow topics on Pinterest. So without any further delay let's jump into the topic and know how you can add and follow topics on the Pinterest application.
There are mainly two types of Pinterest users one is Mobile users and other is desktop. So we will discuss the guide for both users separately. You can look at the guide below according to whichever device you use.
Follow the below guide to add topics in Android/IOS
Open the Pinterest application on your Android/IOS device.
Log into your Pinterest account.
Now if you're an Android user then click on the compass icon from the bottom of the screen. And if you're an IOS user then click on the search icon from the top of the screen.
A list of subjects will now appear on your screen select a subject whose topic you want to add.
From the next page select the topic you want to follow.
At last click on the Red Follow button from the top right corner of the topic page.
Follow the below guide to add topics on the Desktop
Open a browser on your desktop.
Open Pinterest.com in the browser.
Log into your Pinterest account.
Go to your Pinterest Profile.
Select the Topics from the tab under your Pinterest username.
At last, check the selections and select Follow for topics you like.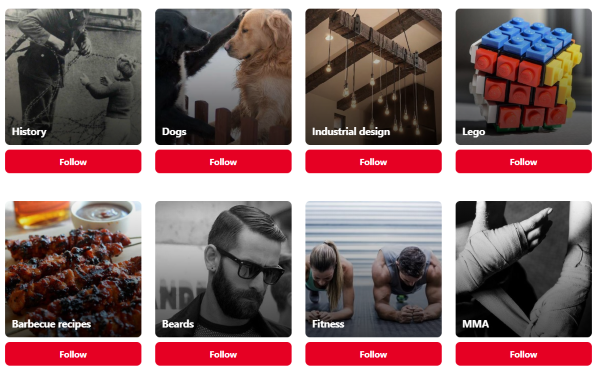 That's all after following the above guide you will be able to easily add any topic on Pinterest.
How to Unadd or Unfollow Topics on Pinterest?
Now that you know how you can add or follow the topics on Pinterest it is time for you to know how you can unadd these topics from your Pinterest.
To Unfollow or Unadd topics on Pinterest follow the steps below:
Open Pinterest on your device.
Log into your Pinterest profile.
Now go to the topic tab.
At last, select the topic you want to unfollow and click unfollow option underneath the topic.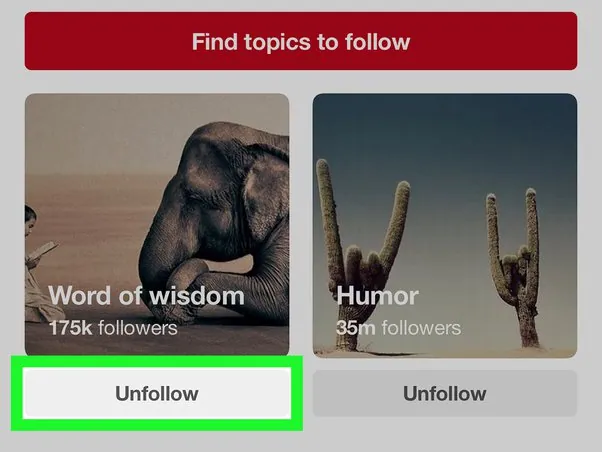 How to Add Topics for Your Pins
You can also add topics to distinguish your pins into different categories. To do so follow the step-by-step guide below and create different topics for your Pin ideas.
Open Pinterest on your device.
Log into your Pinterest account.
Click on the "+" icon or "create" option to add a Pin to your profile.
Now if you want to add a category to your profile then you can create a new board that will distinguish your Pin. To do so click on the drop-down arrow at the top of the page and select the "Create Board" option to create a new topic.
Or you can also add hashtags according to your topic in the description box to show your Pin into a certain topic you want.
Conclusion
In the above article, we discuss "How to Add Topics on Pinterest". But in case you still have doubts and want our further guidance then feel free to contact us anytime. We will try to reach out and help you as soon as possible.
Also Read: How to Unblock Someone on Pinterest?