Spotify is one of the leading and best music streaming app around the world and most of its users might already be familiar with Listen Alike Spotify feature. But in case you missed the updates and don't know about the Listen Alike Spotify then we're here to help you.
Today we will be going to tell you everything you need to know about the Spotify Listen Alike and will also tell you how to use it. So if you don't know properly about this Spotify feature then read the full article properly.
In short, we can conclude that Listen Alike is a Spotify feature that lets you find your celebrity music match after comparing your musical taste to that of famous people. It is very useful for most of its users as now users can listen to the songs that famous people like to listen to.
Listen Alike feature creates a song playlist by comparing your taste with the celebrities music taste so it is very useful for most of its users let's know about it more below.
What is Listen Alike Feature on Spotify?
The Listen Alike feature is a recently developed and introduced feature by Spotify for its users. Users can also enjoy this without buying and any premium membership for free.
This feature allows its users to check the taste of their music, the Spotify team will create its own music playlist for the user by comparing songs with some famous personalities.
With the use of this feature, any users may find out how much similar their taste is to the other Spotify users and celebrities. Users will be surprised to see that he has more in common with his favorite artists than he thought.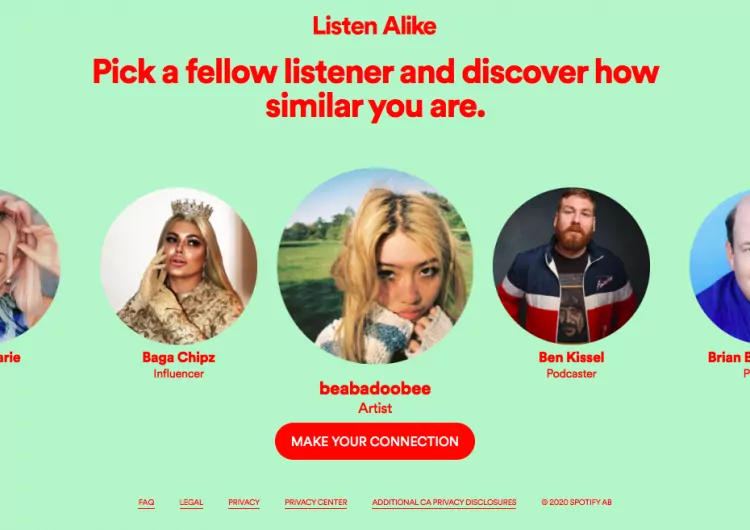 Celebrities on Listen Alike
There is a large variety of celebrities in this feature most of them are artists and contributors with different musical palates. The number is vast not something to be surprised considering Spotify's extensive music library.
Some of the famous name of the celebrities and music artists in this feature are John Legend, Alicia Keys, Megan Thee Stallion, H.E.R., Conan O'Brien, Brian Baumgartner, Ben Kissel, Beabadoobee, SAINt JHN, Rachel Lindsay, Phoebe Bridgers, Dermot Kennedy, Gunna, Jessie Ware, and Lil Durk.
How to use the Listen Alike Feature on Spotify
Now let's move to the main topic and know about how to use this feature on Spotify. Everyone can use this feature with their Spotify account even if you're using a free Spotify account so don't worry about buying a premium account.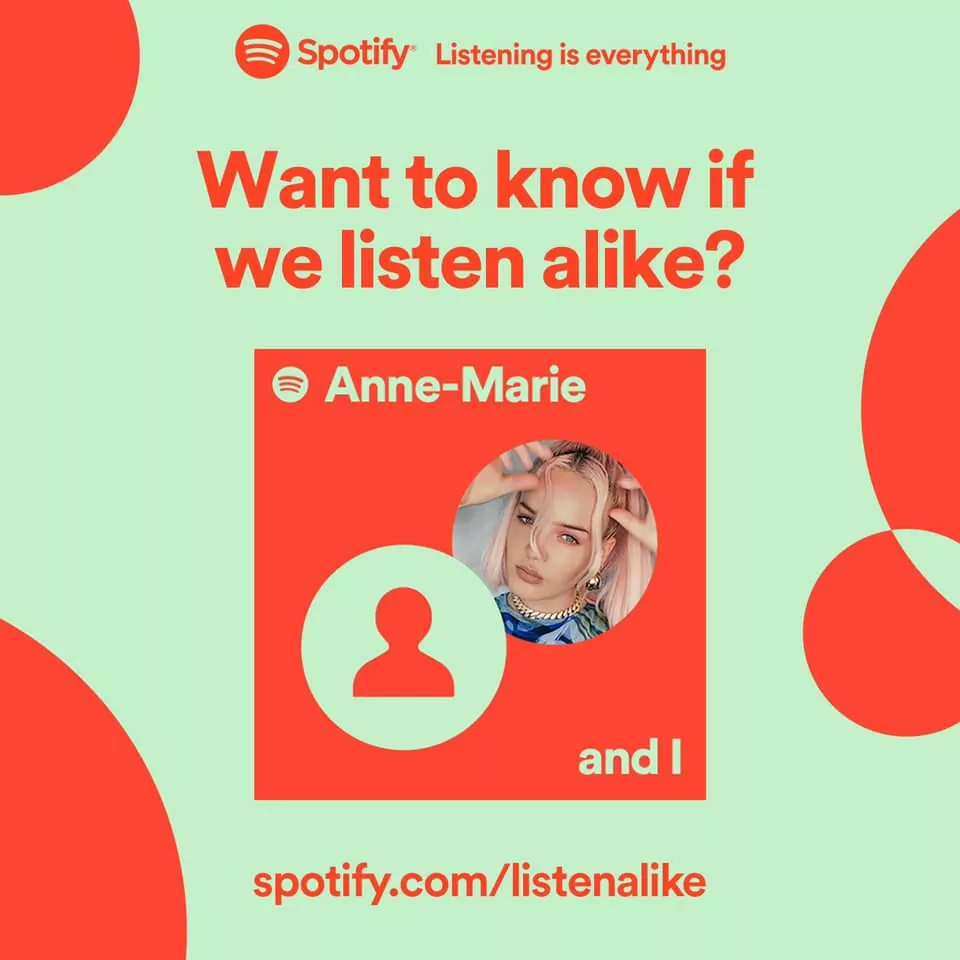 To use Listen Alike Feature on Spotify follow the steps below:
Open listenalike.withspotify.com on your device.
Login to your Spotify Account.
Select the listener from the list you want to make a match with.
The next page will get you a percentage comparison of just how much you have in common.
To see more what you have in common click on the See More option and you will see the three examples of genre, songs, podcasts, or musicians you both listen to on this page.
To get the full list of the music click on the Next option and you will see the list of music you've in common with that person.
Now, to get a custom playlist based on your match recommendations, go to Get Your Playlist.
The playlist of the common music on your Spotify app or web browser will appear with a playlist name under the celebrity's name and you. For eg. "Anne Marie and I."

Also Read: Easy ways to Fix "Spotify can't Play this Right Now"