Recently one of the most popular smartphone brand Xiaomi unveiled its upcoming next-gen charging technology named Mi Wireless Charging Air Charge. The new technology teases by Xiaomi on Friday in which they claim that the new Mi Air charge is going to charge your Mi electronic devices included smartphones through the air. This means that if you sit in a room and turn on the Air charger then user you can remotely charge their devices within the room through Air which is only of its kind technology introduced by Xiaomi.
The company claim that this wireless charger is not like the other wireless chargers using the widely adopted Qi standard which uses inductive charging to charge the device wirelessly beyond that they can only charge device kept up to a distance of 4 centimeters. But with the new Air charger which didn't use any cables, pads, or wireless charging stands just with the use of the Air surrounded users, can able to charge their Mi devices include smartphones kept several meters away from the charger even obstacles kept in path can't resist the charging from Air charger.
Mi also claimed that for the best user experience company has developed an in-house isolated charging pile with a phase control array that consists of 144 transmitting antennas with millimeter-wide waves. This results in a direct strike to smartphone and other electric devices that requires charging through beamforming. Moreover, the company said that the charger also consists of five-phase interference antennas that help it to find out the location of the smartphone kept in range.
As the company also said that the Mi Wireless Charging Air Charge isn't going to come in the market soon yet it will take some time as it is only teased yet no sign of coming is there this year. It is also confirmed by Xiaomi spokesperson on their Twitter handling in which she tweeted that "Mi Air Charge is currently a tech demo and is not coming to any consumer products this year".
As the new charger is fully based on antennas so the smartphones which are capable of charging with Mi Air charger might contain an antenna array with a built-in beacon antenna and receiving antenna array.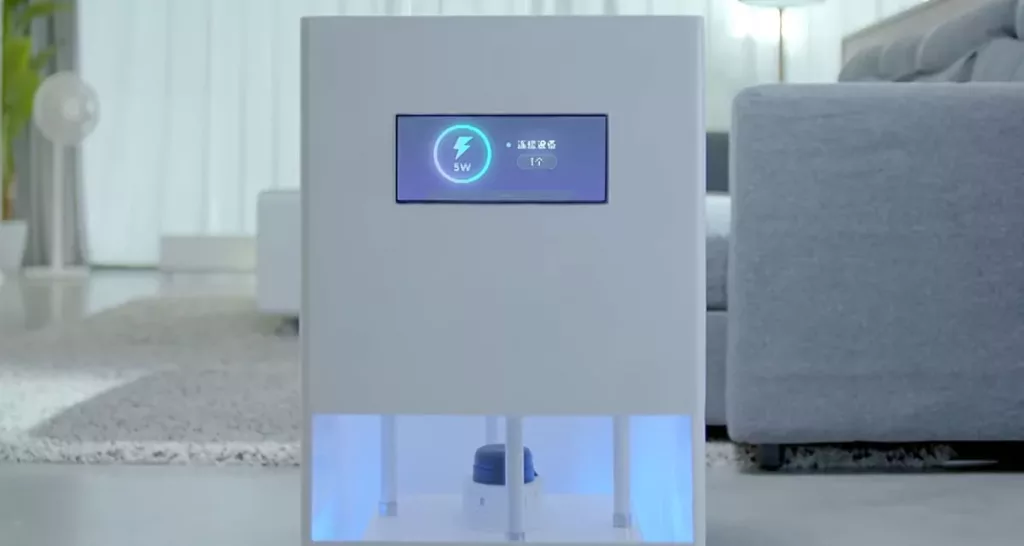 Mi Wireless Charging Air Charge
The company claimed that the initial model of the Air charger is capable to deliver 5W charging to a single device kept between several meters of the radius. However, it is also said that multiples devices can also be charged with each distribution of 5W charging to each with the same technology used for a single device. Xiaomi has demonstrated the new technology for smartphones, though it mentioned that it would work with smartwatches, bracelets, and other wearables in the near future.
In a blog stated by Xiaomi, they said that "Beacon antenna broadcasts position information with low power consumption. The receiving antenna array composed of 14 antennas converts the millimeter-wave signal emitted by the charging pile into electric energy through the rectifier circuit, to turn the sci-fi charging experience into reality,". They also said that "Soon our living room devices, including speakers, desk lamps and other small smart home products, will all be built upon a wireless power supply design, completely free of wires, making our living rooms truly wireless".
Just like Xiaomi, Motorola also teases its new charging technology that can charge your smartphone kept in 1 meter of distance. Last year in April Chinese company oppo reveals a teaser on Wireless Air charger concept called FreeVOOC. In the video, the company tells about the functioning of the new wireless charger experience on the Oppo Reno Ace Infinity smartphone.
Also Read: GEFORCE RTX 3060 TI AERO ITX UNVEILED BY MSI, ONE OF THE MOST POWERFUL GRAPHICS CARD FOR MINI-ITX