If you're an Anime lover then I guarantee you watched the Rent a Girlfriend Anime series and if you don't then go watch it. Rent a Girlfriend is one of the best Romantic and Comedy Anime series based on the Rental Girlfriend system. After Season 1 now Fans are waiting for the Rent a Girlfriend season 2 and if you're also one of them then here we have some good news for you.
It is officially confirmed that season 2 of the series will be going to release next year so we just have to wait for a few more months and we will get our favorite Anime series back on the track.
The first season of the anime series was aired in 2020 Summer and is a big hit the Anime fans really loved the first season and now is waiting for the second season of the series. The Rent a Girlfriend Anime series is originally based on weekly Shonen Magazine Manga from author Reiji Miyajima.
It is recorded that the Manga series of Rent a Girlfriend was reached the first position in the sales with 700,000 digital sales of the copies. And was also recorded as the fourth most-watched and the best and highest-ranked program on Japan's Netflix.
Also Read: No Game No Life Season 2 Release Date and Everything we Know so Far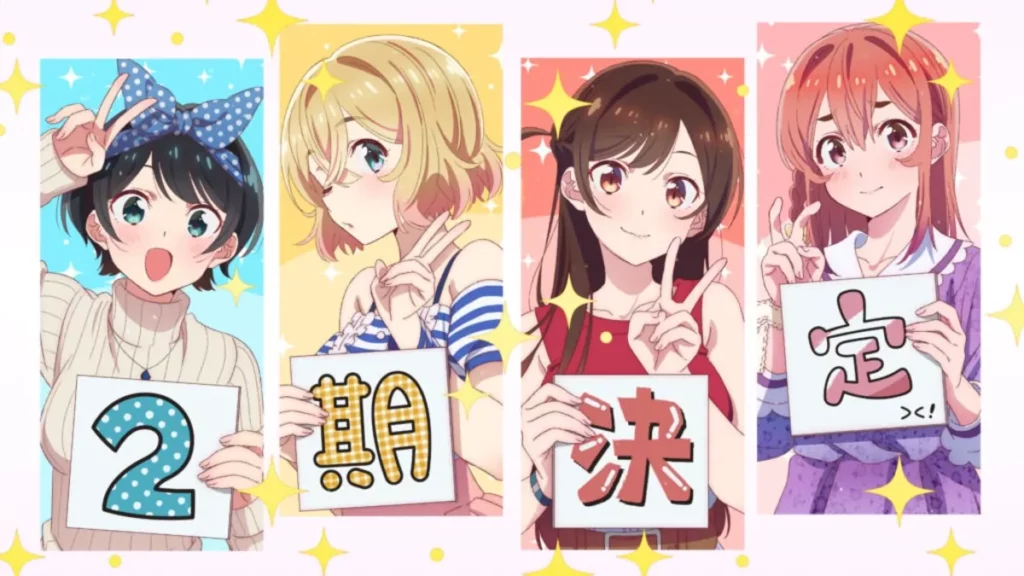 Rent a Girlfriend Season 1
Before talking about the new season of the series first let's recall and take a quick look at the storyline of the first season of the series and the beginning of the most epic and loved Anime series Rent a Girlfriend.
In the first season, we got to see the story of a 20-year-old Kazuya Kinoshita who got dumped by his Girlfriend Mami Nanami in the very first scene. After getting dumped by his girlfriend then Kazuya decided to use a dating app that lets him rent a girlfriend. By using that App he rented a girl named Chizuru Mizuhara and go on date with her but after the date, he gives her a really low rating.
However, the situation takes a turn when Kazuya introduces Chizuru to his hospitalized grandmother, who takes a liking to the girl and thinks of Chizuru as her real girlfriend. Later on, Kazuya and Chizuru also discover that they're neighbors.
After a time being and slowly by slowly, Kazuya realizes that he is in love with Mizuhara and really likes to spend time with her then they both start to go on Rental dates after every few days. But at the end of the series, we saw the girl named Sarashima Ruka who suddenly starts liking the Kazuya and purposes him.
In the end, Kazuya gets back to where he left and tried to purpose Mizuhara but can't able to do so. And the series end with many uncompleted stories and many relations on hold. So the fans are really wanted to see the second season of the series so that they could get all the answers to their questions and know the life partner of the Kazuya.
Fortunately, we will soon be able to see the second season of the series so all we have to do now is to wait for some time.
Also Read: Overlord Season 4: Release Date and Latest updates we know so far
Rent a Girlfriend Season 2 Release Date
Well before talking about the release date we have to first see if the second season release is confirmed or not as if the season 2 release is on hold then we cannot guess the release date so it is really important to know if the series is going to continue or not. Well for this we're glad to inform you that the second season of Rent a Girlfriend is officially confirmed.
In 2020 when season one of the series ended the Crunchyroll informed all the fans about season two and they said that we will get to see the next season real soon. But all the fans are waiting for the season to release this year but sadly we don't get to see it in 2021.
Now it is said to be released the next year fall i.e. 2022. The main reason why the season got postponed and we will not be able to get it in 2021 is due to the Pandemic so now we can assume that we will see the next season real soon in 2022.
Rent a Girlfriend Season 2 Cast and Characters
The main characters and the cast members for the second season of the series are:
Horie Shun as Kazuya Kinoshita
Amamiya Sora as Mizuhara Chizuru
Yuki Aoi as Nanami Mami
Touyama Nao as Sarashima Ruka
Takashie Rui as Sakurasawa Sumi
Also Read: Log Horizon Season 3: Everything you wanted to know about Season 3
Rent a Girlfriend Season 2 Plot and Story
Well, the plot for the second season is still not confirmed but after watching the first season closely we can conclude the plot like the development of the relation between Kazuya and Chizuru.
As we have seen in the last episode of the season we can observe that Kazuya's Ex-girlfriend Mami is plotting something and then invited Mizuhara on a Rental date then explaining to her that she knew everything about Kazuya and Chizuru. Which was clearly declined by Chizuru by saying that Kazuya is her real boyfriend then Mizuhara also asked Mami if she had feelings for Kazuya or not.
By observing these situations we can conclude that we will get to see a lot of interference of Mami while building a relation between Kazuya and Mizuhara as Mami is the one who is standing between them.
Also, we see in the last episode that Kazuya purposes Chizuru and later on declines it by saying that she wants her to stay by her side as her Rental Girlfriend and ask her for a Rental date.
There are about 210 Manga chapters released till now and there is still no end or announcement when the Manga series will going to end so it is clear that there is enough source material so we just have to wait for Anime studio to film these Manga chapters in the Anime episodes.
Also Read: Goblin Slayer Season 2 Release Date and Everything we know so far