Are you a gamer who loves to play online games? if yes, then this article is going to be a useful one for you. If you're a gamer then you might hear of the game called "Stranded Deep". Nowadays this game is very popular and is known for its good plot and playable experience. Well, the game might be lonely for some players but if you find yourself a partner then this can be heaven for you. But what if your partner got hurt or injured and you want to revive him? If you're also finding an answer to the same then read the following article here we will tell you how to revive in Stranded Deep.
In this article, we will be going to discuss a short guide in which we will tell you how you can revive your teammate or friend in Stranded Deep easily. Just read the following article and understand the process to revive your teammate in the game.
Stranded Deep is a survival where you're stranded on a deserted island and you have to live for your life. You have to survive the harsh conditions of the island and find food and shelter for yourself. But one thing that most of the Stranded Deep players face while trying to survive is the death of their fellow teammates.
And most of them didn't even know how to revive their teammates. If you're also one who doesn't know about it and want to know how to revive in Stranded Deep then read the following article properly.
So now without wasting any more time let us get straight to the point and start discussing how to revive a teammate in Stranded Deep. But before that, the first thing you need to make sure of is that you have Bandage in your Inventory. If you don't have it then you won't be able to revive someone. So before moving to the reviving part let's first discuss how to create or get a Bandage in the Stranded Deep game.
How to Create or Get Bandages in Stranded Deep?
There are two ways you can obtain bandages in your game inventory. One is to craft them and the other is to find them. To craft bandages you mainly need two materials "1x cloth" and "1x lashing". By Looming them together you will be able to craft a Bandage successfully.
Or there is another way to get Bandages and that is by finding them in the game. You can get or find the bandages in different locations throughout the map or island. Some of the locations where you can get bandages are "cabinets on shipwrecks" and "supply crates scattered throughout the island".
How to Revive in Stranded Deep?
Now that you have obtained bandages in your inventory it's time to start talking about how to revive in the game. The process isn't that complicated or difficult all you need to do is follow two main steps and you will be able to revive your teammate or friend easily.
The first thing you need to make sure of is that you have bandages in your inventory. Once you obtain bandages hold them in your hands. And move towards the injured or deceased friend or teammate. Once reached near the teammate a message will appear on the screen "Hold E to revive".
Once you get that message press and hold the "E" key from your keyboard. You will see that the reviving animation will begin. And your teammate will start to restore health or gain consciousness. You need to hold the "E" key until the revive animation ends. It can take up to a minute or so but you have to be patient.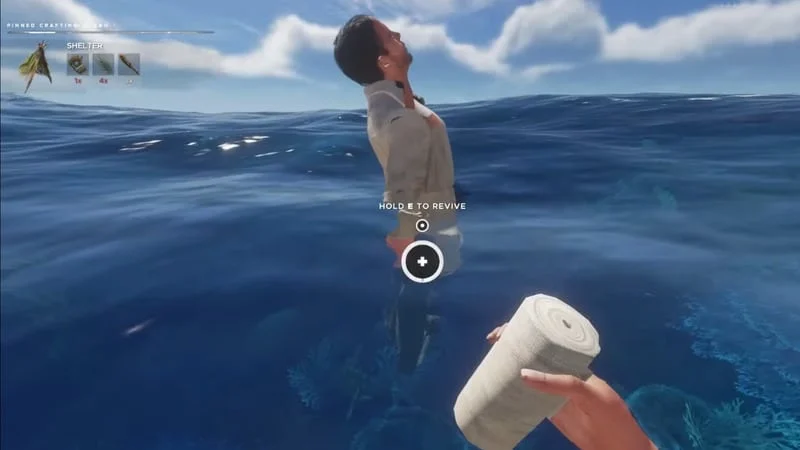 Once you fully revive your teammate you need to take them to someplace safe. Because even after reviving them they still need rest just like in real life. Let them rest until they fully charge their health bar or they will die again due to weakened body.
If you're looking for some other way to revive a teammate then sorry to disappoint you but as of now, there isn't any other way to revive someone in Stranded Deep. You can only revive using the bandages. It is also important to look after the injuries of the revived person. Bandages can also be used to cure injuries. So be sure to have a good stock of bandages every time in your inventory.
Conclusion
In the above article, we discuss the topic "How to revive in Stranded Deep". But in case you still have your doubts and want our further guidance then feel free to contact us anytime. We will try to reach out and help you as soon as possible.
Also Read: Easy Ways to Fix "Stray Scratch Achievement Not Working"