Roblox games are one of the most played games around the world if you're also one of them then maybe you're finding the updated and latest code for Tower defense Simulator. Roblox Tower Defense Simulator codes are here if you're also finding the one then must check and read the full article properly.
You can redeem the troops and XP using this code. This is also the easiest way to redeem the free rewards and upgrade yourself in the game. The code will also help you to defend your towers better and gain experience in the game.
Roblox Tower Defense Simulator codes
Below are the updated available latest codes for the Tower defense simulator along with some old codes which you might have missed.
Latest Active Code:
COMMUNITY20: You can use this code to redeem Mini Skin but most importantly you must have Minigunner Tower in your account.
Old Expired Codes:
celebration21: Using this code you can redeem one party crate.
BLOXY21: You can redeem Commander skin using this code.
FIFTYK: Use this code to redeem 200 coins.
200KMAY: Use this code to redeem 500 Gems.
imababy: Use this code to redeem 100 Gems.
delayed: Redeem a premium crate.
30k: Redeem one Pumpkin crate.
newyear2021: Redeem one premium crate.
5KMILESTONE: Redeem Minigunner Twitter skin.
ICYFREEZE: Redeem Freezer skin.
DOUBLEBLOXIES: Redeem Cowboy skin.
B1RDHUNT3R: Redeem Hunter troop.
W33KLICODE: Increase Experience by 65.
1pumpkin: Redeem Pumpkin crate.
SPR1NGM1L3ST0NE: Redeem Springtime Skin (Shredder).
HAPPY3AST3R!: Redeem Springtime Skin (Commander).
02MOMENT: Redeem XP.
ELECTRO: Redeem 100 Coins.
SW33TXP: Redeem 100 XP.
MOARXP: Redeem XP.
How to Redeem Code
Redeeming Roblox Tower Defense Simulator Codes are really easy just follow the steps given below:
Select the Troop Menu option available on the left side of the screen.
The New Menu screen will be open.
Now click on the option "Enter Code".
Enter the latest code correctly and then click on the > button.
That's it now all done and you will be rewarded.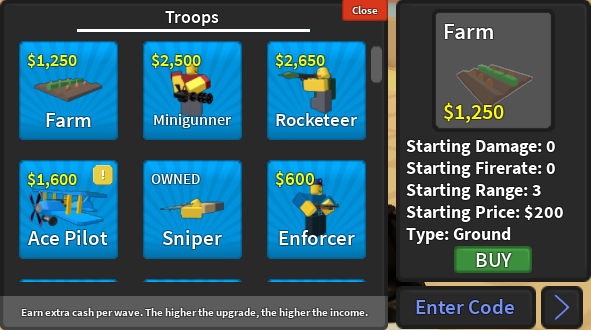 Also Read: Farming Simulator 19 Mods PS4: Best FS19 PS4 Mods 2021