Samsung TVs are one of the most selling products of the Samsung Company. And one of the most loved products also but still there are many problems that users face while using the Samsung TV and one of the major problems is the Samsung TV Volume Stuck issue.
Well, if you're also facing the Samsung TV Volume Stuck issue and are finding some easy ways to fix the problem then you're at the right stop. Here we will tell you some easy ways to fix your Samsung TV Volume Stuck problem right at home by yourself.
While watching something on your Samsung TV maybe you ain't able to change the volume. Like it's stuck and you can't do anything about it. At that moment you think that your TV remote or your Samsung TV is broken.
But that's not it well this is one of the most common problems faced by Samsung TV users around the world. So you don't need to be tense you just have to try some fixes to solve it. If you're unaware of what to do then read the article stated below and try the easy fixes that we stated below.
Easy Ways to Fix Samsung Tv Volume Stuck Issue
If your Samsung TV Volume is stuck and you need to fix it easily without Repair center help then you can follow the fixes we stated below:
Fix #1. Reset Smart Hub
The very first thing that you should try to fix your volume stuck problem is to reset the Smart Hub of your Samsung TV. The Smart Hub is basically the app store of your Samsung TV and by resetting it you can reset all your TV and account settings and return them all to the default.
After resetting the Smart Hub maybe you have to resign some of your TV apps. To do the Reset of your TV Smart Hub follow the steps below:
Click on Setting/Menu button on your remote.
Go to the option Support and after that click on the option Self Diagnosis.
Now You will see an option Reset Smart Hub, Click on it.
After that you will be prompted to the TV PIN Screen. If you've reset the TV PIN before enter it and if not then enter '0000' as your Samsung TV PIN.
Atlast your Samsung TVs Smart Hub will be reset successfully and your Volume Stuck problem will be fixed.
If you're still facing the problem then try other fixes we have stated below.
Fix #2. Power Cycle Your Samsung TV
Power cycling your Tv is yet another easy way to fix problems you're facing with your TV and this also included the Volume Stuck problem with your Samsung TV. So we recommend you try it to solve the Volume issue with your Samsung TV.
Power cycling your TV is also known as the soft reset. So to do so follow the steps below:
Turn off and Unplug your Samsung TV.
After unplugging it wait for 30 seconds.
After 30 seconds press and hold the Power Button on your TV for about 10 seconds to drain all the remaining power on your TV.
Now you can plug your TV back in the socket and turn it ON. Check if your problem is solved or not.
Fix #3. Delete Unnecessary Apps to free up space
After the above steps if you still having problems with your Samsung TV then we recommend you try deleting some unnecessary apps that way you can free up some space on your TV and problems with your TV will be solved.
Samsung TVs have automatic updates that clog up all your memory with apps that have been downloaded on your behalf. To fix your volume issue long term you'll need to clear out any unused apps. To do so follow the steps below:
Go to the Apps menu option located at the bottom left corner of your home screen.
Click on the settings option appearing at the top right corner of the App menu.
Now the list of Apps downloaded on your TV will be appear you can go through all of them and choose which one isn't needed and delete it from your Samsung TV.
There are several apps that you will not be able to delete as they are pre-loaded and necessary apps installed by Samsung. These apps include Netflix, Hulu, Prime Video, VUDU, etc.
Fix #4. Factory Reset your Samsung TV
Factory reset is somehow different from the above reset you have done as by factory resetting your TV you will reset all the TV settings to its default. By that we mean the settings you have changed after buying the TV will be reset to their original.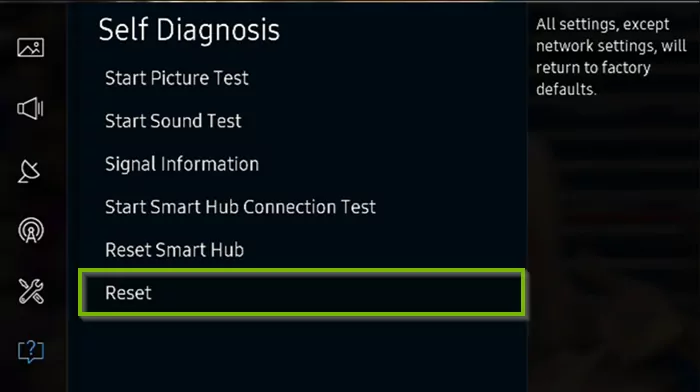 Factory resetting your TV can fix almost every problem faced by you so the Volume Stuck issue isn't any exception. To Factory Reset your Samsung TV follow the steps below:
First go to the TV Settings menu.
Click on the option Support or general from the menu.
Go to the Self Diagnosis option and then click on Reset option to factory reset your TV.
Enter the PIN of your TV and your TV will be factory reset.
Fix #5. Use Samsung remote support
If none of the above solutions work for you then we recommend you to get the help of Samsung Remote Support. You can get the Remote support either way just by calling Samsung Customer Care at 1-800-726-7864 (8 am- 12 am EST 7 days a week) and ask for the remote support.
Or you can also access the Samsung Remote support through your Samsung TV Remote by doing the following steps:
Open the menu of your TV and go to the Support section.
Click on the option Remote Management and Agree to the terms.
After getting prompted to the PIN screen provide your PIN number.
Atlast the agent will access your Samsung TV and solve your issue for you.
Conclusion
Samsung is one of the leading market brands with many different electronics products. Samsung TV is one of the most used and loved TV around the world. Thus there are many issues also that are faced by the users like Samsung TV Volume Stuck.
This is a very common issue faced by Samsung TV users you can easily solve this problem on your own through easy steps. We provide you above with the easy and simple steps guide to solve your Samsung TV Volume Stuck issue.
If your problem isn't solved by the above guide you can also get in touch with Samsung Service care by calling at 1-800-726-7864. Samsung will further identify your problem and solve it with the help of experts.
Also Read: Easy Ways to fix Samsung TV Black Screen of Death