Does your Telegram Number got banned? And now you're looking for a way to unban your Telegram Number? if yes, then read the following article. Here in this article, we will be going to tell you how to unban Telegram number easily. After the ban, you can get your telegram number back within a few hours but not everyone knows about it. but if you're here then you might know about it but don't know how to do so. Well, worry not we got you covered here just read the following article properly.
One of the most annoying things that any App users face is getting banned from the app and don't have any idea why this happened. And recently many Telegram users started to face the same problem. Where they got their Telegram number banned and they don't even know what they do wrong. If you're in the same boat and want to unban your Telegram number then you're at the right stop.
But before moving to the main topic and starting to discuss the procedure to unban your Telegram number. The first thing that we must look into is the reason why your number got banned. As there are many different reasons why you got your Telegram account banned. You can look into some of the common ban reasons to safeguard your number to get banned again.
Why Telegram Banned my Number?
There are many different reasons why Telegram banned or blocked your Number. Here we will only be going to state the most common ones due to which users got banned from the app.
Occasional blocking: There are certain times when Telegram bots mistakenly blocked your number on Telegram. The reason can be unjustifiable and you will probably get your account back in 2-3 days.
Input of Incorrect password: Telegram is very serious about users' accounts and data. Telegram can ban your account if you accidentally entered your password for more than 5 times. As it sees it as a hacking attempt on your account. So if this is the case then try to change your password instead of entering the wrong one.
Your Account got Reported: If your Telegram account got reported by many users then Telegram can ban it. Report Spamming can be done using posts or group chats. If many users report your Telegram number then there is a high chance of your account getting banned.
Dummy Telegram Number: If you created a new Telegram account using a new number. But that number is a dummy and if you don't use it for any other activity. Then Telegram will see it as a breach of regulations and will ban your Telegram number.
You breach Telegram Terms of Services: When you create a Telegram account you agreed to follow all Telegram terms of services. And if in the near future, you breach the contract then Telegram can ban your account.
Misuse of Telegram Bots: Telegram allows its users to create different types of Telegram bots. But if you're misusing these bots like to spread hatred or malicious content. Then also Telegram can ban your account.
How to Unban Telegram Number?
Now that we know about the reason that can cause the ban. Now it's time to start discussing how to unban your Telegram number. Here we only going to state the easiest and the most effective ways to get your Telegram number unbanned.
Below are the ways to Unban your Telegram number easily:
Method #1. Report Your Problem to Telegram officials
If you're facing a login problem and doubting that your account is mistakenly banned. Then you can ping the Telegram officials about your problem and let them solve it for you.
All you need to do is DM Telegram officials on Twitter with your phone number at "@smstelegram". But if they can't help you or you're doubting that your problem isn't related to login. Then you can Ping them on their official Twitter account i.e. "@telegram". But the thing to be noticed is that the Telegram official can speak or talk in English or Russian only. So if you speak some other language then ping them on the following account: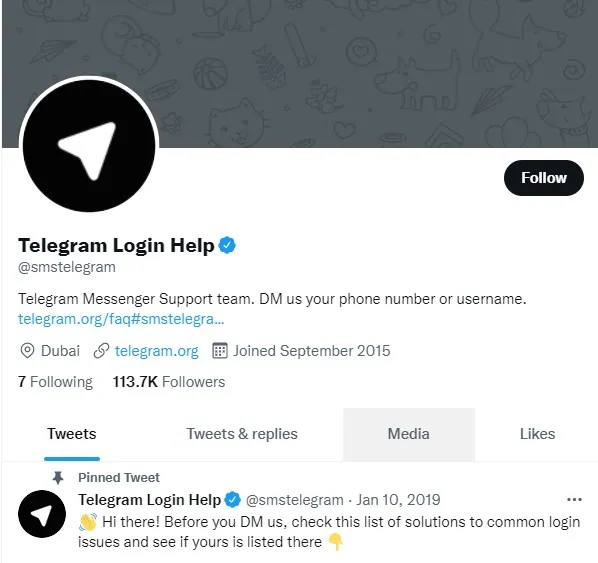 Method #2. Report your Problem to Local Support Team
Another thing you can try is to ask for help from the Telegram local support team. You can contact it by going to your Telegram settings and find the option "Ask a question!". After clicking on it explain your issue to the support team and ask for their assistance. They will come up with a solution really soon and will help you.
Method #3. Send an Email to Telegram officials
You can also contact Telegram by Email and ask for their help. To do so follow the steps given below:
First Uninstall the Telegram application.
Install the app again.
Try logging in on your Telegram account.
You will get a message regarding the account ban on your screen.
Following the ban message you will also get a "Help" option click on it.
Now click on the 'Send automated Email" option.
Your Gmail app will get open.
Now in the Mail Subject write "Regarding the Telegram account Ban issue". And in the body section explain your problem and ask for them to unban your Telegram account. Or you can just copy and paste the below-given content in the Mail body.
Dear Telegram Support Team,

I hope this email finds you well. I am writing to kindly request the unbanning of my Telegram account, which was recently suspended. My Telegram account is associated with (Phone Number). I have been an active user of Telegram for a considerable period of time, and I greatly appreciate the platform for its secure messaging services and vibrant community.

I understand that Telegram has established policies and guidelines to maintain a safe and respectful environment for all users. I acknowledge the importance of upholding these standards and assure you that I have always endeavored to comply with them. However, it appears that my account has been inadvertently banned, and I believe there may have been a misunderstanding or error in the moderation process.

I kindly request that you review my account's suspension and consider reinstating it. I am more than willing to cooperate and provide any additional information or clarification necessary to address any concerns you may have. I genuinely value my presence on Telegram and the connections I have established with fellow users, and I am eager to continue utilizing the platform responsibly.

I apologize if there have been any unintentional breaches of your guidelines from my account, and I assure you that I will remain vigilant to avoid any future violations. I greatly appreciate your attention to this matter and your understanding of my situation.

Thank you for your time and consideration. I look forward to hearing from you soon regarding the resolution of this issue.

Yours sincerely,
[Your Name]
[Your Telegram Number]
Note: If the Telegram official Email doesn't get automatically displayed on the receiver's space. Then write down the following Email: recover@telegram.org.
Conclusion
In the above article, we discuss some easy and quick ways to Unban Telegram Number. But in case you still have some problems and want our further guidance then feel free to contact us anytime. We will try to reach out and help you as soon as possible.
Also Read: How to Unban Whatsapp Number 2023?