Do you use Whatsapp as a means of communication with your friends and family? And recently you got banned from the app and now you want to unban your Whatsapp number but don't know how to do it. If yes, then you're at the right place just keep reading the following article to know how to unban banned WhatsApp numbers easily.
Here in this article, we will be going to tell you how to unban WhatsApp number easily. So keep reading the article and follow the guide which we're going to state below. We will try to state every possible and best way you can try to get your Whatsapp number unbanned. So follow the full guide and if one method ain't working for you then try another.
WhatsApp is one of the best and most popular means of communication. It is used by billions of people around the world. In the app, you get various facilities like calling, messaging, video calling, etc. But sometimes due to certain reasons, you might get banned from the app if such a thing happens to you. What can you do to unbanned WhatsApp number?
But before moving to the main topic and starting to discuss the methods to unban Whatsapp Number. First, we need to discuss the reasons below why you got banned on Whatsapp.
Why WhatsApp Ban Your Number?
There are many different reasons why Whatsapp might have banned you on the platform. The main reason is that you don't follow the guidelines mentioned in the "terms of services" of Whatsapp. Some of the main reasons why Whatsapp banned you are as follows:
Spam Messages: When you send messages in bulk or spam messages to someone on Whatsapp. Then might catch the attention of the officials and they can ban you because of spam messages.
Send or receive inappropriate content: When you send or receive inappropriate content on WhatsApp like 18+ content. You might get banned from the app without any warning or notice from the officials.
Use of MOD WhatsApp: If you use Modded WhatsApp applications like Whatsapp GB, WhatsApp Plus, etc. You might get banned because these applications are not officially approved and if you get caught using them then you might face a temporary ban on the app.
Someone Reports you: This is another main reason why many WhatsApp accounts got banned. When someone reports you on the application then you catch the attention of the officials. And they will monitor your activities on the app and if they caught you doing something inappropriate. Then they can ban you without any warnings.
How to Unban Whatsapp Number 2023?
There are two types of bans that WhatsApp users face one is temporary and the other is permanent. So it depends on what type of ban WhatsApp officials imposed on your account to try to recover it.
If the ban is temporary then you will see the ban duration on your WhatsApp and will get your account back once the period is over. but if you're facing a permanent ban then this can be a problem for you.
So to get your WhatsApp account back you need to follow the below given methods. To try to Unban your WhatsApp account on the app.
Method #1. Contact WhatsApp Customer Support
The first thing you need to do is contact WhatsApp Customer Support and ask for their help. If there is still a chance to unban your account then this is the best way to do so. All you need to do is contact WhatsApp customer support and explain yourself to them. After that wait for their response and see if they unban your account or not.
You can follow the steps given below to contact WhatsApp customer support:
After getting your account banned open the WhatsApp app and you will see a popping-up option "Support". Click on it and your Mail app will open.
Now in the Email body explain yourself defending against the ban of the account. You can state that the action taken against the account is wrong. And even if the allegations are true then you will surely look into it. And will not repeat anything that goes against the WhatsApp Terms of Condition.
In the Email also state your WhatsApp number and send the message.
After contacting the WhatsApp team wait for some time until they contact you back. And follow all the instructions given in the follow-up email to try to unban your WhatsApp account.
Email Format You can Write to WhatsApp To get your account Unban
Subject: Request to Unblock My WhatsApp Number
Dear WhatsApp Support Team,
I am writing this email to request your assistance in unblocking my WhatsApp number. My number, which is [insert your phone number], has been blocked on WhatsApp, and I am unable to use the app to communicate with my family, friends, and colleagues.
I am not sure why my number was blocked, but I believe it was done in error, as I have not violated any of WhatsApp's terms of service or community guidelines. I use WhatsApp primarily for personal communication and have never used it for any spamming or other inappropriate behavior.
I kindly request that you unblock my number as soon as possible so that I can resume using WhatsApp to stay in touch with my loved ones and colleagues. I am willing to comply with any necessary steps or procedures to regain access to my account.
I would appreciate it if you could let me know the reason for the blockage, and provide me with any necessary guidance on how to avoid such situations in the future.
Thank you for your attention to this matter. I look forward to your prompt response.
Sincerely, [Your Name]
Method #2. Uninstall WhatsApp Mod and use Official WhatsApp Application
If you got your WhatsApp number temporarily blocked due to the usage of WhatsApp Mods like GBWhatsapp. Then we recommend you uninstall the modded app and Install the Official WhatsApp application.
Delete all the GBWhatsapp files from your phone or rename them as WhatsApp. By this, you won't be able to get your account back instantly but still, your ban period will get reduced. And you will be able to get your WhatsApp number unbanned soon than the specified date.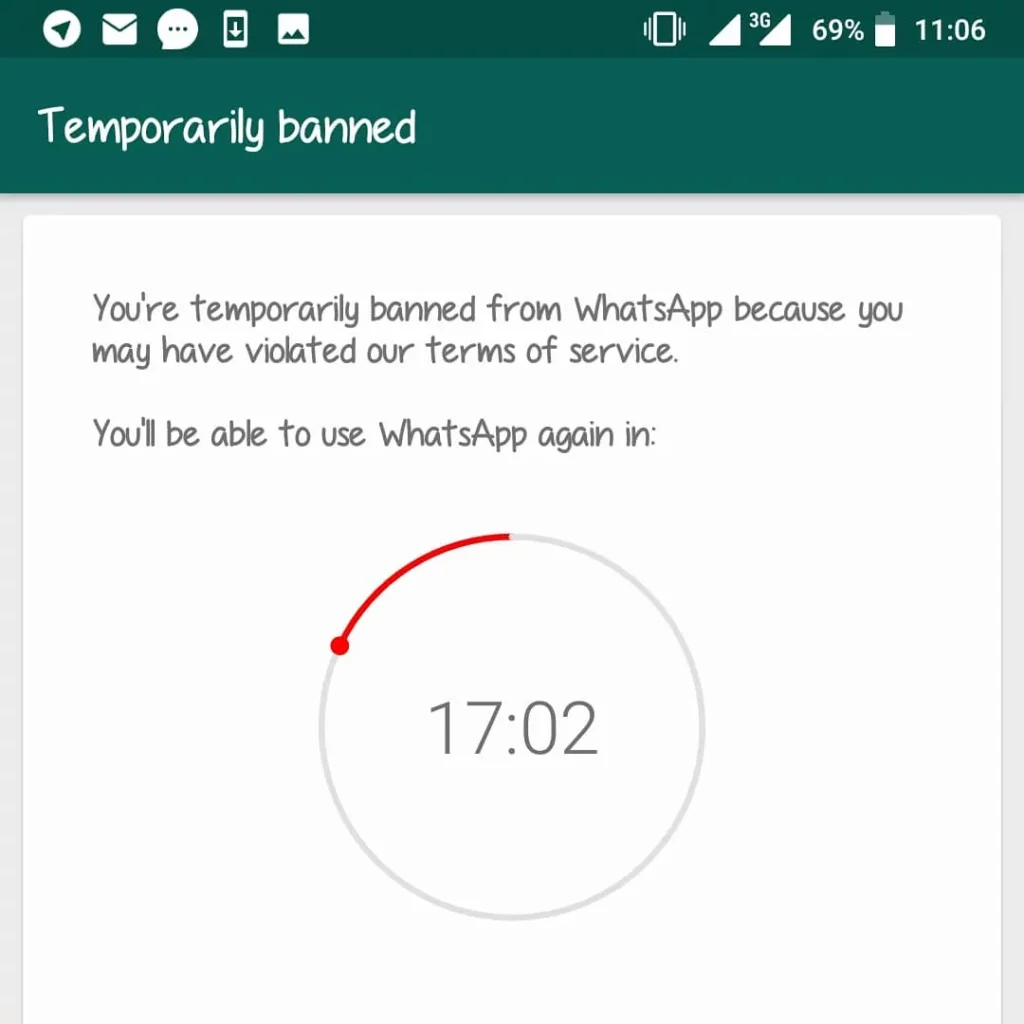 Method #3. Create a New WhatsApp Account
If after several tries your WhatsApp number is still banned then you might not be able to recover it back soon. So for the time being we recommend you create a new WhatsApp account with your other number.
Just Reinstall WhatsApp and sign up as a new user then enter a new phone number. And create a new WhatsApp account with another phone number.
Conclusion
In the above article, we discuss some easy and quick ways to Unban your WhatsApp Number. But in case you still have some problems and want our further guidance then feel free to contact us anytime. We will try to reach out and help you as soon as possible.
Also Read: How to Block Someone on WhatsApp without them knowing easily?