In this modern world and age use of AI (Artificial Intelligence) is pretty common these days. And the best and most famous AI-powered application is ChatGPT. OpenAI ChatGPT is a dialogue-based AI application that can create human language unique content. After the release of ChatGPT, it became quite famous within a very short time. It has millions of active users that use it every day but what will happen if your ChatGPT starts showing the Internal server error?
Having errors on our favorite websites or application is quite frustrating the same is with the CHatGPT users. Nowadays many users start to report that while using the app they face ChatGPT internal server errors. And most of them don't even know how to deal with it.
If you're in the same boat and wanted to know easy and quick ways to fix the ChatGPT Internal Server Error then read and follow the article below. Here in this article, we will be going to tell you how you can easily fix the "Internal Server Error" on ChatGT.
But before moving to the main topic and start discussing the fixes first we need to understand the problem properly and the causes behind the problem.
What Exactly is the ChatGPT Internal Server Error?
Just like any other website or application ChatGPT also uses a server to operate and hold the data of its users. And with a sudden rise in the user base, it is getting quite difficult for ChatGPT servers to handle all users and that's why it is showing up the "Internal Server Error".
There is also one Twitter user who Tweet about the error message saying "The server is currently not performing optimally due to the exponential growth of users in recent days". So by this, we can easily think how massive user growth is in AI tools.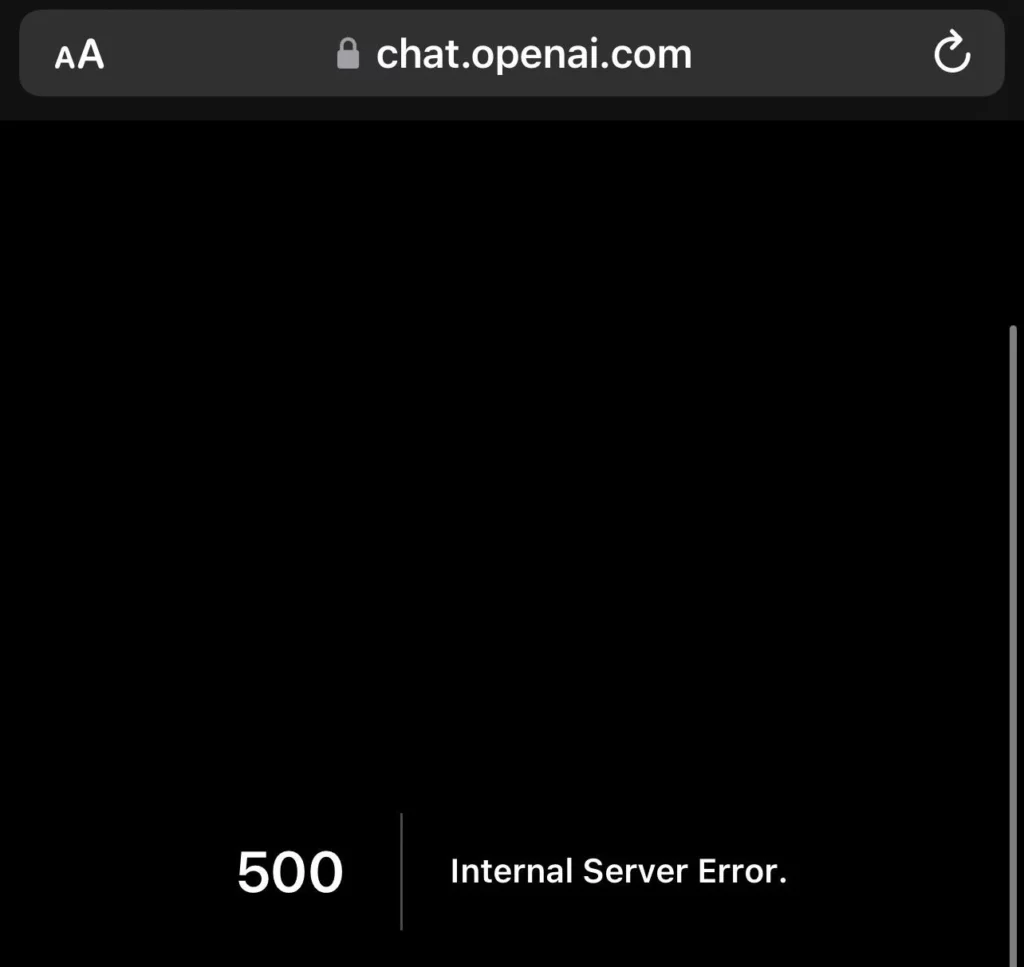 What Causes "Internal Server Error" on ChatGPT?
There are many different reasons why users face this server error but some of the main causes are:
There are too many users using ChatGPT and the server got overloaded.
Your Internet connection is unstable.
You haven't created an account.
You haven't verified your account's content.
Your Browser Cache Data is corrupted.
How to Fix "ChatGPT Internal Server Error"
There are many different ways to fix this error issue. But here we will only be going to state the best fixes below.
Fix #1. Check for ChatGPT Server Status
Before moving to any other fix the first thing you need to make sure is that ChatGPT servers are working properly. If the problem lies with the server of the app then you cannot fix it until or unless the server restores its services.
To check out for the downing of the servers of ChatGPT visit https://status.openai.com/ and check if the servers are operational or not. And if the server status shows that the servers aren't working properly then wait for some time until the restoration of the services.
Fix #2. Check if your Internet Connection is Stable
The problem may lie with your internet connection. Weak and unstable connections may lead to some minor errors and glitches. So it is recommended to always connect with a good and stable internet.
To check out if your internet connection is good. Just type "Internet Speed test" on your search engine like google. And then click on the button "Run Speed Test" showing up on your screen. Now internet test will be conducted and it will show if your internet is stable or not.
And if your network connection is weak or unstable then we recommend you switch to another network. Or connect to a good Wi-Fi and then check if the ChatGPT server error is solved or not. You might also be connected with a VPN connection if yes, then log out from VPN and see if the error is solved or not.
Fix #3. Create an Account
The next thing you need to make sure of is that you have created a ChatGPT account. All you need to do is tap on the register option and register your account with a valid Email Address and Password. After that log in with your credentials and try using the app.
Fix #4. Verify your Account Data
After creating an account you need to verify your account's content i.e. Mobile Number and Email Address. Before using the service ChatGPT from your account it is mandatory to verify the Email and Mobile number you're using on your account.
Fix #5. Reset ChatGPT
The next fix you can try to solve your issue is by resetting your ChatGPT page. You can reset your ChatGPT by clicking on the "New Thread" option from the top left side of the screen. After that, you need to again type your query and see if you're still getting the error or not. And if you still facing the same error then move to the next fix below.
Fix #6. Clear your Browser Cache Data
The problem may lie with the corrupted cache data of the browser you are using. So if you doubt that this might the case then you must try clearing the cache data and see if the problem got solved.
You can easily clear the cache data of the browser you're using by going to the settings and search for clear browsing data. Then select the option "Clear Data". After deleting the Cache data try using the ChatGPT app again and see if the problem got solved or not.
Fix #7. Contact ChatGPT Customer Support
If none of the above fixes work for you then we suggest you seek help from ChatGPT Customer support. You need to contact the OpenAI support team and then explain your problem to them.
To contact the support team opens the following link: https://help.openai.com/en/ and explain your problem in an understandable way. You can also attach screenshots of the error. After reporting your problem you need to wait until they contact you back with a positive response.
Conclusion
In the above article, we discuss some easy and quick fixes to solve the "ChatGPT Internal Server Error". But in case you still can't fix your problem and want our further guidance then feel free to contact us anytime. We will try to reach out and help you as soon as possible.
Also Read: Easy Ways to Fix "SS06 Snapchat Error Code"