While working on Crypto.com and trying to link your Debit or Credit card it is common to face some problems or errors such as "Crypto.com Error Declined by Issuer". If you're also the one who is facing the same problem and want to know some easy and quick fixes to solve it then you're at the right stop.
Here in this article, we will be going to tell you how to fix the "Crypto.com Card Declined by Issuer" Error easily. So just keep reading the article and find some easy and quick ways to fix it.
But before moving to the main topic lets us first discuss more of this problem below like what precisely this error means.
What does Declined by Issuer Error Means?
The meaning of this error message is quite simple but still many Crypto.com users don't get it and get confused about it. Well, it simply means that the bank with which your Credit/Debit card is associated isn't accepting or approving the transaction you wanted to make.
There can be various different reasons and causes behind this error but still whatever the reason is there are many fixes to solve it. So if you're also searching for some ways to fix this issue then read the easy and quick fixes we stated below.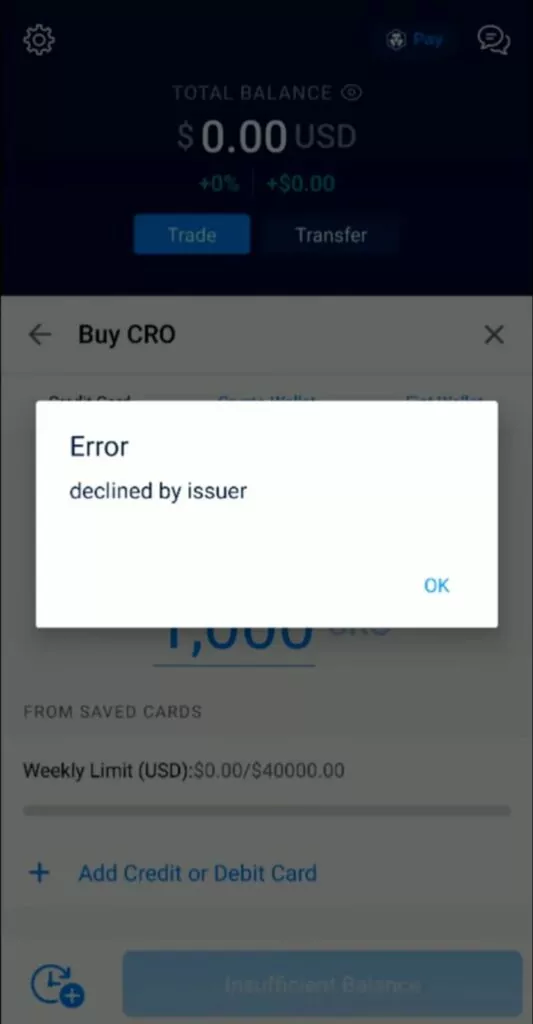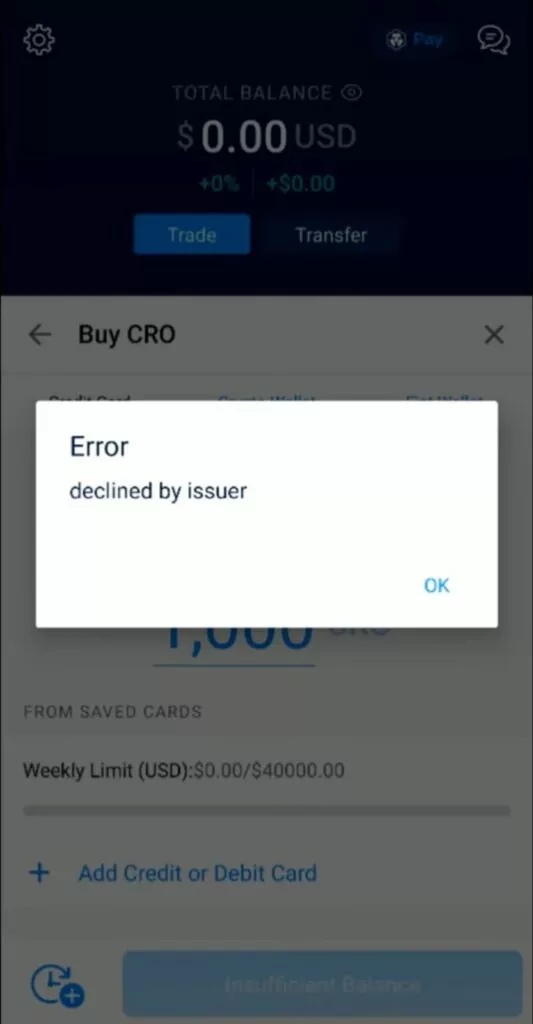 How to fix the "Crypto.com Card Declined by Issuer" Error?
There are many ways to fix this error on Crypto.com but here we will only going to discuss some of the most effective and easy ones that you can follow to solve your problem.
Fix #1. There aren't enough funds or balance on your card
While making a payment or adding a card for payment in Crypto.com first thing that you have to check out is whether your card has sufficient funds or balance. This is a common cause why many people face the card declined by issuer error on Crypto.com, So it is recommended to check if your card has enough funds or not.
Fix #2. Invalid Card Details
While entering the card details there is a chance that you've entered the wrong details and due to which now you're facing such an error while adding the card. So we recommend you to check your card details again and re-enter them carefully.
Fix #3. Your Card's Issuer server is facing a problem
This is another quite common cause why you're facing this error on Crypto.com while adding the card. If you doubt that this is the case then there isn't much that you can do to solve it rather than just wait for the problem to solve on its own. We recommend you wait for a few hours and try adding your card again.
Fix #4. Try Adding Another Card
There might be an issue with your card so it is better to try adding some other card to your Crypto account. As many times this method works for the users if you're currently trying to add a credit card then switch to your debit card and try it out. This method is one of the most effective ones so we recommend you to try changing your card and see if it got accepted or not.
Fix #5. Your Card Issuer is declining the Transaction
This is one of the main reasons why you can't able to add the card or can't make a transaction this can be due to your card issuer suspecting the transaction as a fraud and declining it. So if you're suspecting this to be the case then try contacting your bank and ask for their assistance and also clear the doubt that the payment is not a fraud so there isn't a reason to decline this payment you're trying to do in your crypto.com account.
Conclusion
Crypto.com users frequently face errors and the "Crypto.com Card Declined by Issuer" Error is one of the most common ones. So here we tell you how you can fix this error easily by following the above steps. By any chance, if there is any doubt or you still have any problem with your crypto.com error then feel free to contact us anytime we will try to reach you as soon as possible.
Also Read: