Are you an Instagram user who recently faced some issues like chat deletion? If yes, then you're at the right stop. Recently many Instagram users started raising an issue in which they claim that their Instagram chat was deleted automatically.
Well, many of them think that this is some kind of Instagram bug or glitch. But it is not a glitch, just make sure to read this article properly and clear all your doubts and know how to fix it.
Instagram is one of the most popular social media applications around the world. With millions of active users daily many users face problems that they cannot fix without some kind of help. And one such problem faced by Instagram users is when Instagram chat got deleted automatically.
Like recently many users reported that the chats they have with each other got deleted automatically. I know this might sound funny but it's true many users face the same problem. They also claim that the other second they sent the message it got disappeared from chat and now they can't see any of the messages.
But you don't need to worry about it because we're here for you. Just read the following article and fix your issue using the methods we're going to state below.
Why did Instagram Chat got Deleted Automatically?
Recently Instagram launched their new update in which they introduce a new chat mode "Vanish". If you don't know about it then read this section and you might find your answer to why your chats got deleted.
Using Vanish mode one can allow Instagram to delete all the messages automatically when the user read them. Like suppose we're talking with each other if I allow Vanish mode on my Instagram chats then all the messages we have will get deleted automatically.
So that means if even one of us allows the vanish mode then all our messages will get deleted. But also you have full access to turn this chat mode Off you can always turn it Off and get all your messages back.
But for that first, you need to update your Instagram application or else you will not be able to do it. Below we will tell you how you can switch this vanish mode off and get all your Instagram messages back.
One reason can be vanish mode but that might not be the reason. Like sometimes your Instagram might be facing some bug or glitch. Due to this, your messages got deleted. Or there can also be an Instagram server problem.
Whatever the cause just read the below article and follow the guide to fix it.
How to fix the "Instagram Chat Deleted Automatically" Issue?
There are many different fixes you can try to solve your issue. But here we will only be going to tell you about the best ones. Below are some of the best and most effective ways to fix the "Instagram chat deleted automatically" issue:
Fix #1. Update your Instagram Application
The first thing you need to do is to update your Instagram application. Before proceeding any further it is necessary for you to first update your Instagram application. To update your Instagram app follow the steps below:
Open the Play Store/App Store on your Mobile.
In the search bar type "Instagram".
Now check if the app is showing the update option or not.
If it is showing the update button next to the app name then click on it to update the application.
Fix #2. Turn Off Vanish Mode
Once you updated your Instagram app the next thing you need to do is turn the Vanish mode off. To turn off the vanish mode follow the steps given below:
Open the Instagram application on your mobile device.
Go to the chat section by tapping on the chat icon from the top right corner of the screen.
Open the chat which got deleted automatically.
Now tap on the profile icon of the other person from the top of the chat screen to open the chat settings.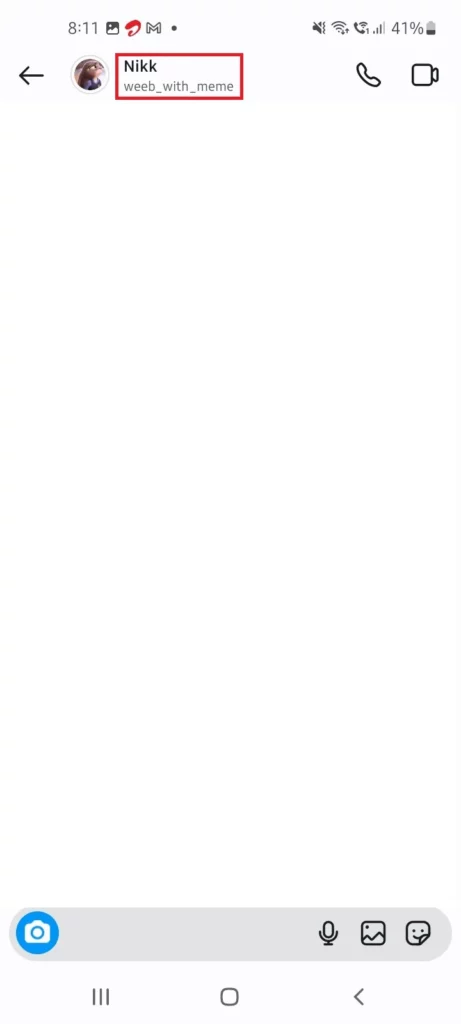 Now you will see an option called "Vanish Mode".
Turn off the toggle button next to the Vanish mode.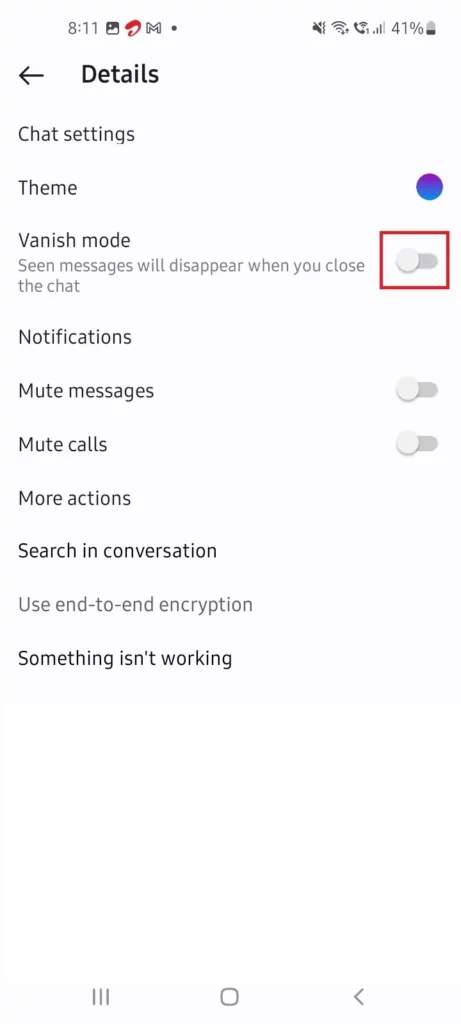 That's it once you turn the vanish mode off Instagram will start showing all your messages. But there might still be a chance that another person turn it on again so ask them to turn it off to restore all your messages and after that, your recent send messages will not get disappeared.
Fix #3. Check for Instagram Servers
If Instagram servers are down then you cannot do anything to fix it. So it is best to check out for the Servers if they're working properly or not. If there is a server down the problem then you have to wait until the services got restored.
To check out Instagram servers you can go to the sites like Down Detector. And then search for Instagram it will show you all the server outages in the recent 24 hours. If the servers are working properly then move to the next fix below.
Fix #4. Wait for Sometime to fix the Instagram chat deleted automatically
Another reason for the issue can be the Instagram bug or glitch. So if you're doubting that this can be a reason then there isn't much you can do. All you can do is just wait for it to fix automatically. Just wait for about 24 to 48 hours and see if Instagram fixes the issue automatically.
Many users reported that the message deletion problem they were facing got fixed automatically. So this can also happen to you so we recommend you wait for some time and see if the problem got fixed or not.
Fix #5. Report your Problem to Instagram Support
If you've tried out all the above fixes and still can't fix it then the last resort you have left is to report your problem to Instagram support and ask for their help. Reporting your problem will notify the support team to take action to fix it. So if the problem is from their side then you might get a quick response and they will fix your problem for you.
To report your problem to Instagram Support follow the steps given below:
Open the Instagram Application on your device.
Go to the profile section by tapping on your profile icon from the bottom-right corner of the screen.
Tap on the three lines icon from the top right corner of the screen to open the menu.
From the pop-up menu select the first option i.e. "Settings".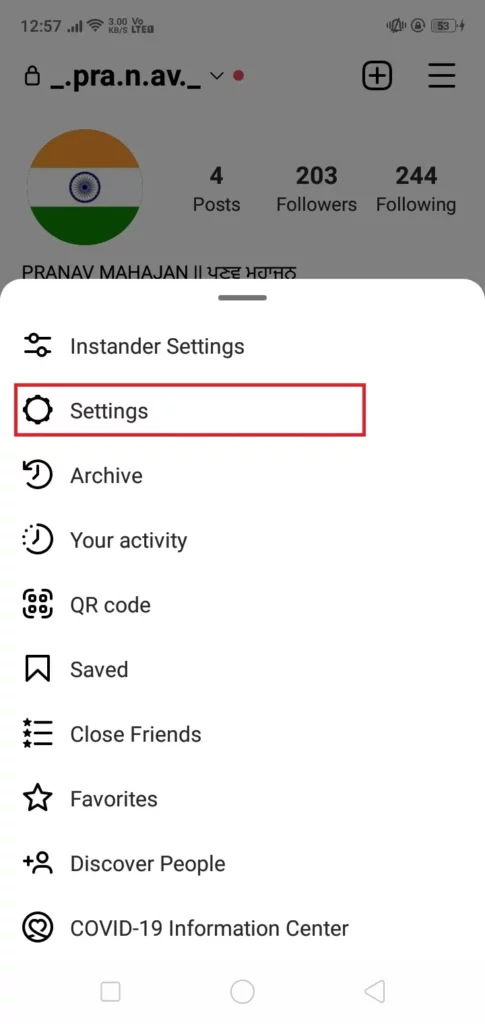 In the settings tap on the Help option above the About option.
Select the option Report a Problem.
Again select the option Report a Problem.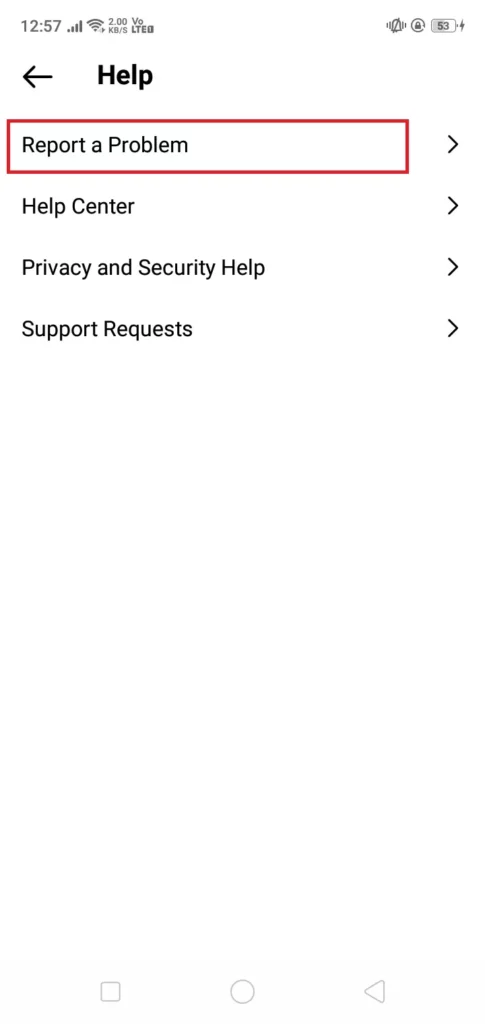 Now describe your problem as you want or you can just copy & paste the sentence "My Instagram chat is getting deleted automatically. I just check out that my vanish mode is off and still can't get my messages back. Please look into the problem and try to solve it as soon as possible, Thank you".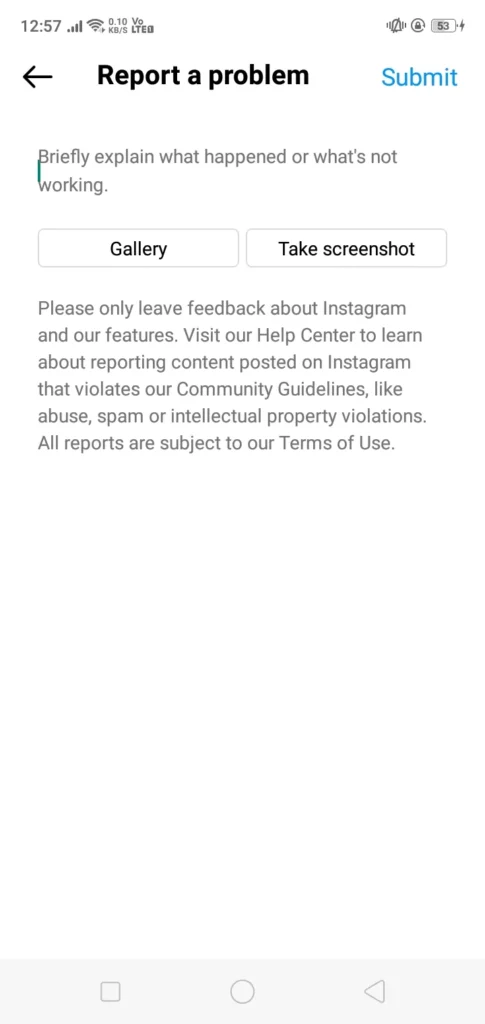 After submitting your problem to Instagram support wait for further instructions from Instagram. They will surely look into the matter and update you as soon as possible.
Conclusion
In the above article, we discuss some easy and quick fixes to solve the "Instagram Chat Deleted Automatically" Issue. But in case you still can't fix your problem and want our further guidance then feel free to contact us anytime. We will try to reach out and help you as soon as possible.
Also Read: