Amazon users might face the issue while placing an order on Amazon. Like "This Item Cannot be Shipped to your Selected Delivery Location". The error issue is quite frustrating for those Amazon users who want to buy products but cannot do so because of the error message.
You might enter your address location correctly but the reason why Amazon showing this error is because they cannot ship that order to your defined location or city. The reason can be anything like the seller cannot ship the order to your location. Or the delivery services are unavailable in your location, etc.
Amazon is a home of millions of sellers where they sell all their goods and services. Amazon is the biggest E-commerce platform all around the world and you can find literally anything to buy online from the platform. Sellers try to deliver all the goods and services to customers' doors but still, some items cannot be shipped by them.
There are many reasons why sellers can't deliver items to some users. And we will try to discuss all those reasons below. And will also try to give you some best advice to fix the error issue you're facing on Amazon.
So read the following article properly without skipping any of its content. And fix the "This item cannot be shipped to your Selected Delivery Location" error on Amazon. But before moving to the main topic and start discussing the fixes for the error. Let us first talk a bit about the error itself and the causes of the error below.
What Exactly is the "This Item Cannot be Shipped" Error on Amazon?
You can make a guess by looking at the name of the error but if you're still doubtful about it then read the following section and know about the error. This error message simply means that the item you're trying to purchase cannot be shipped to your given address.
Like if you're trying to purchase something from a US seller on Amazon.com but you entered your address to some foreign country like India. Then the seller won't be able to deliver it to your address. So you need to buy the item from a seller in your own country or from a seller who accepts foreign orders.
You might be shifted to some other location where shipping is possible but you haven't changed your address yet. This might also cause an error message. In short, the error message simply means that Amazon delivery services aren't able to ship your product to your given address. So you need to either change the address or buy the product from another seller which can ship the product to your address.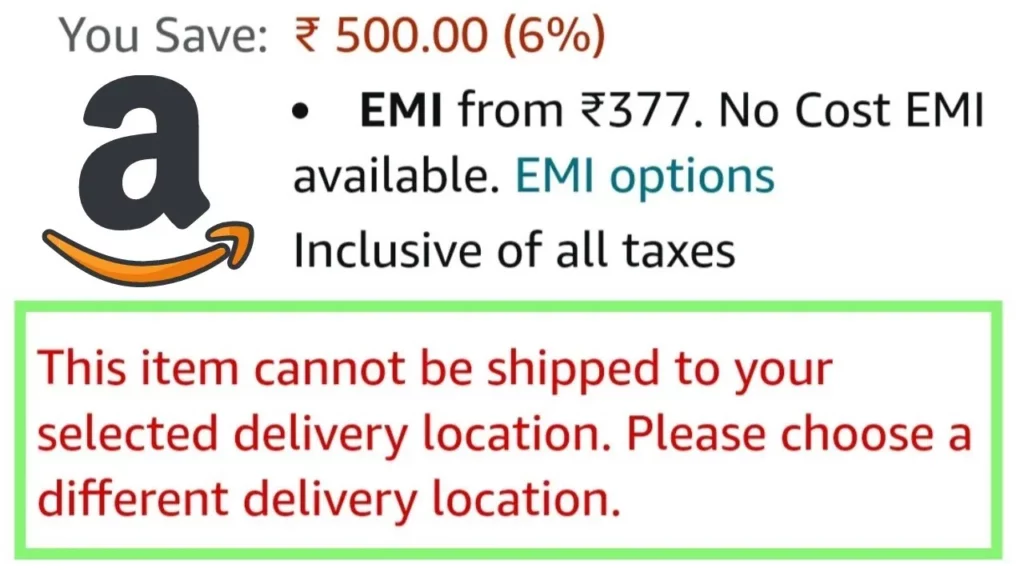 What Causes the "This Item Cannot be Shipped" Error on Amazon?
Now that we know what exactly this error message means now it's time to talk about the causes of the problem. There can be many different reasons why you might be facing this error on Amazon. Some of the most common causes that users reported are stated below:
The seller cannot ship your product to your location.
The product delivery is restricted in your area.
The seller doesn't have international shipping available.
The product dimension exceeds shipping limits.
The product is unavailable to ship to your location due to government import/export regulations.
The item is ineligible to ship because of its oddly shaped.
Above are some of the most common reasons why Amazon users face the "This item cannot be Shipped" error. So if you want to fix it then move to the next section below and try out the fixes given below.
How to Fix the "This Item Cannot be Shipped" Issue on Amazon?
So let's move to the main topic and start discussing the solutions to fix the Amazon error. We recommend you follow all the below given fixes and if one fix doesn't work try out the other until you fix the issue.
Fix #1. Double Check your Delivery Address
Before moving to any other fixes the first thing you need to check for is the delivery address you provided. Sometimes by mistake, people enter the wrong address due to which Amazon faces issues and couldn't ship your product. For example, you accidentally type the wrong PIN code which is crucial for delivery.
And if the PIN code you provided isn't right then where will Amazon deliver the product? So, it is best to first double-check that you provided the right delivery address before moving to any other fix below.
To check out if you have provided Amazon with the correct delivery address follow the steps below:
Go to the Amazon app or Amazon Web on your device.
Log in to your Amazon account.
Click on the Address widget from the top of the screen next to the Amazon logo on the Amazon web and under the search bar on the Amazon mobile app.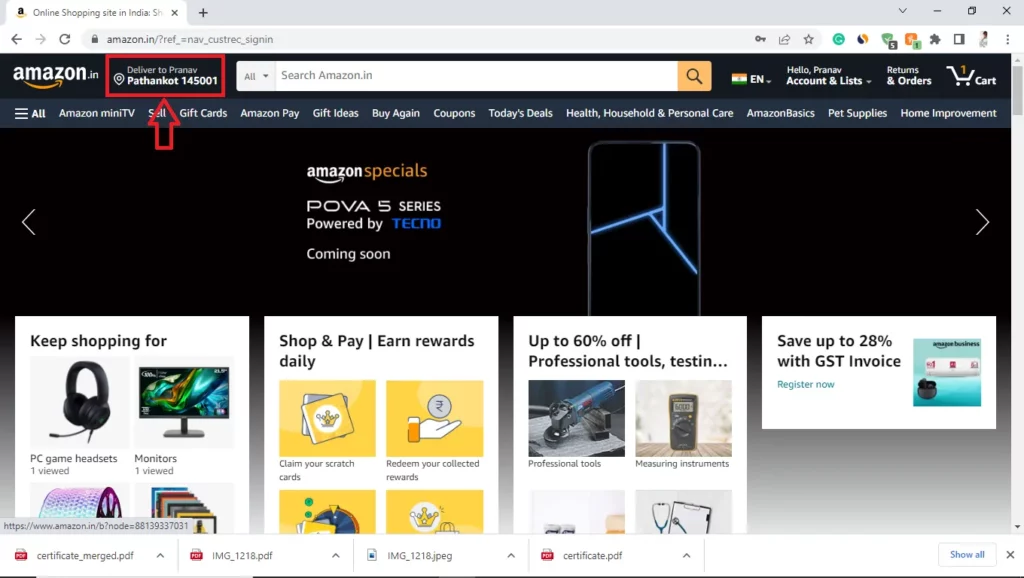 Now check your provided address.
If the address is correct then move to the next step. And if it is not then add your correct address and try ordering your item again.
By following the above steps you will be able to see your provided delivery address on Amazon. Double-check your address carefully and change it if the address is wrong. If your address is correct and you're still facing the problem then move to the next fix below.
Fix #2. Use Someone Else's Address
Sometimes particular products are restricted in particular locations. And same might happen with your delivery location. The reason might be anything like the area is restricted for online deliveries or anything.
So if you doubt that this might be the case then we recommend you to change your delivery address to someone else. As you will not be able to get the delivery in your PIN code. So you need to enter some other PIN code you can use your friend or relative address who can receive your order.
Just follow the above-given steps and enter the new address. Use the address of your friends or relatives where the delivery isn't restricted. Once you change the address try ordering your goods again and see if the "Item cannot be shipped" issue is fixed or not.
Fix #3. Buy from a Different Seller
Maybe you're trying to buy a product from a foreign seller but he does not have an international shipping option. Or the domestic seller does not provide shipping in your area or region. Well, this might be the case with you. So if you doubt that this is a problem then we recommend you change your seller.
On Amazon, hundreds of sellers sell the same product with different prices and delivery options. So if you're having a problem with shipping then you can try changing your seller. Just search for the same product and choose a different seller.
You can also find different sellers on the item listing page. In the below section, you will get an Other Sellers on Amazon section. Just check it out and try buying from those sellers. The prices may vary but you might be able to get your order without any error message.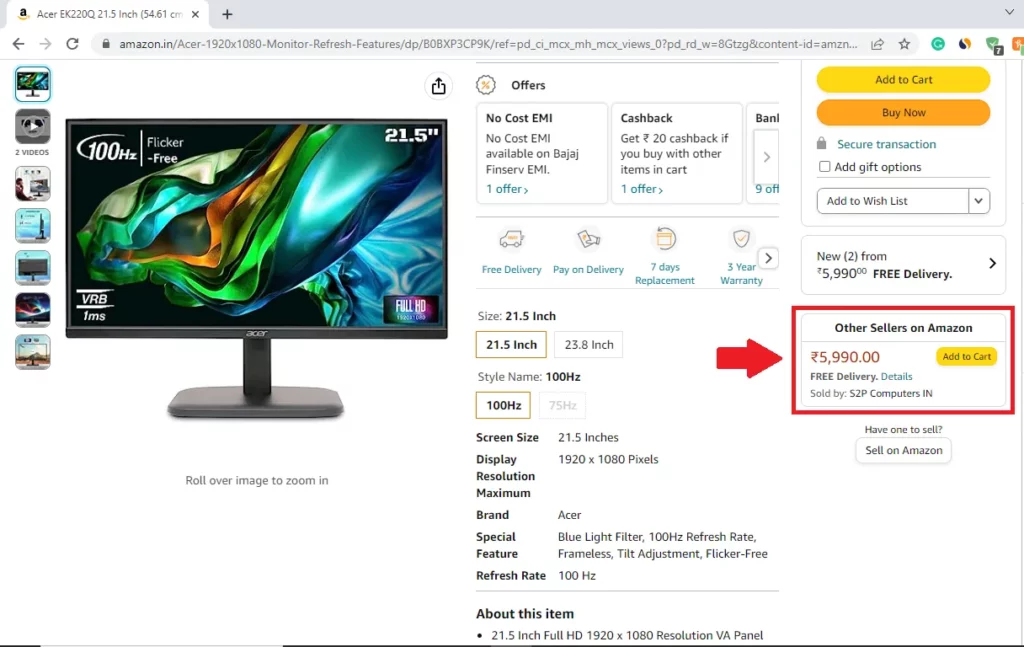 Fix #4. Wait for Sometime to Order
The reason behind the "This Item Cannot be Shipped to your Selected Delivery Location". Might be a temporary problem with your location. Like deliveries from outer cities or countries are temporarily blocked in your area.
This is one of the common reasons behind this error issue. As sometimes government blocks the delivery services due to certain reasons. Or the problem might lie with the Amazon servers. And if this is the case then you cannot do anything about it. You can just wait for some time until the services started again.
We recommend you wait for like 2-3 days and then again try ordering the item. You might be now able to successfully get the order without any error message.
Fix #5. Contact Amazon Support
If none of the above-given fixes work for you then the last option you have left is to ask the Amazon Support team for help. Amazon is one of the leading E-commerce or online store around the world. So exceptional customer support is to be expected from such a big brand.
Amazon's support team is always ready to help those who have been stuck with any problem. So it is the best and last option that you can try out to fix your "This item cannot be shipped" Issue. All you have to do is visit the Amazon customer support page there you will get two options one is call and the other is chat.
It is up to you which one you want to choose. After selecting one option Amazon support team will connect with you and ask about your issue. Just explain everything you're facing to them after hearing from your side. They will start investigating the problem and will surely ping you back soon with a fix.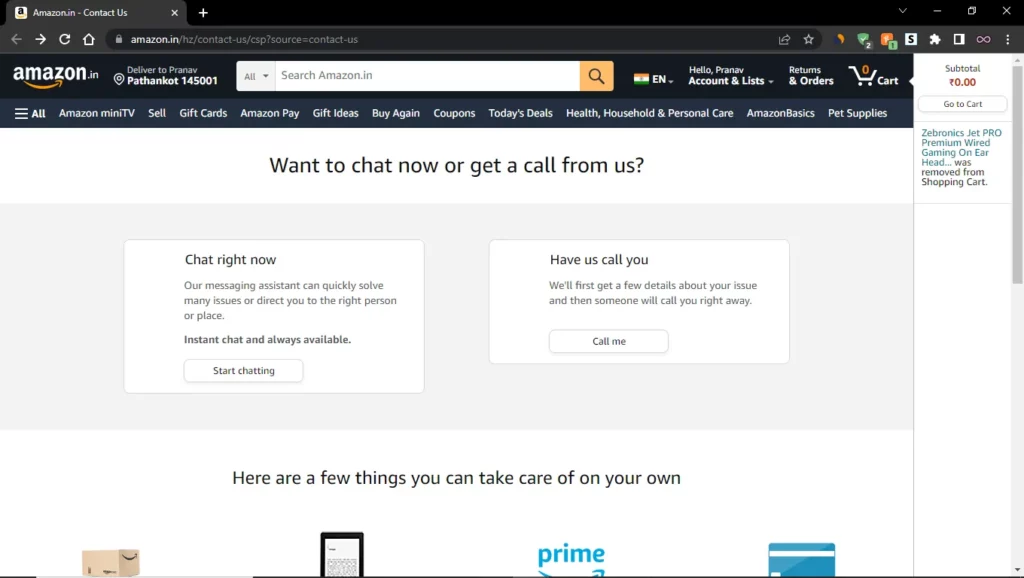 Conclusion
In the above article, we discuss how to fix the "This item cannot be shipped" issue on Amazon. But in case you still have some problem and want our further guidance then feel free to contact us anytime. We will try to reach out and help you as soon as possible.
Also Read: Easy Ways to Fix Amazon Alexa Error 701