We all know about Facebook it is one of the oldest and most used social media applications in the world. Millions of users use Facebook every day but with the millions of users there are also millions of annoying features on Facebook and one of these is Quick Access. Well, if you're also thinking about how to Get Rid of Quick Access on Facebook then you're at the right stop.
With the update, Facebook recently updated its quick access feature which you can get by accessing the search bar on the app. The quick access will appear on the top of your recent searches and which may also annoy you while you are trying to search for someone on Facebook.
So if you're looking for a way to get rid of quick access on Facebook then keep reading the following article and you will get all your answers shortly along with the way to delete the quick access option.
What is Quick Access on Facebook?
Maybe you've already seen and used this quick access feature on Facebook but in case you don't know what this feature means then let us tell you all about it. As the name suggests this quick access feature lets you go through your recent activities quickly.
Or in simple words, the quick access feature will suggest you some quick suggestions based on your recent activities. Also, there is not a huge list of tasks shown in the quick access it will only show you a maximum of 4 suggestions at a time. Profiles, pages, and groups are some of the most frequent appearances in the Quick Access tab.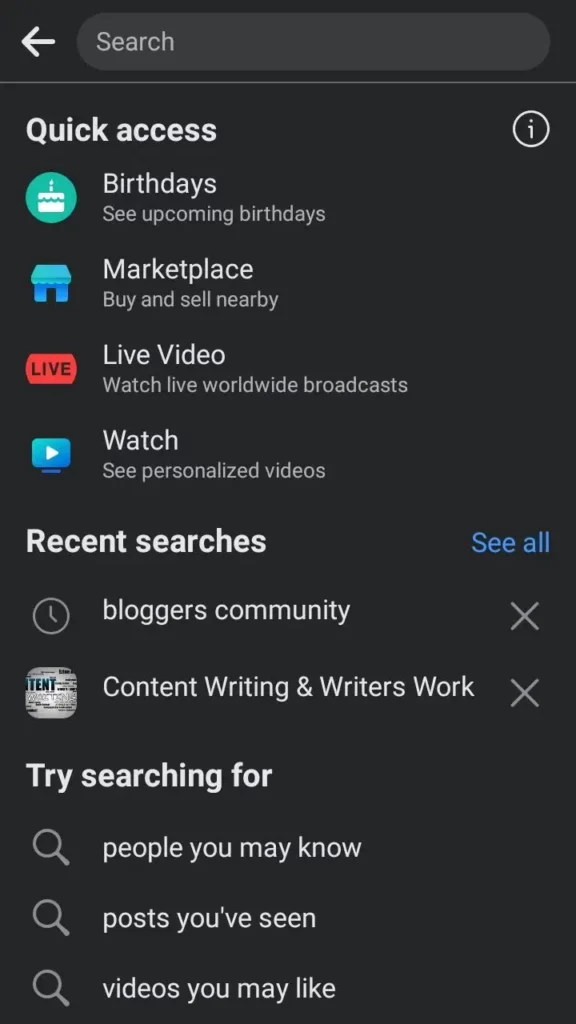 Can you turn the Quick Access feature OFF on Facebook?
To be frank there aren't any possible available ways to turn the quick access feature off on Facebook. Sadly you have to deal with it until Facebook provides us with some turn OFF feature that will pause the services of quick access shown in the search bar.
But also if you aren't able to enjoy the app like before and seriously want to get rid of this feature then you can follow the simple hidden trick that we're going to tell you below.
How to Get Rid of Quick Access on Facebook?
As we already stated there isn't any direct way to turn this feature off however you can get rid of this feature by going through a few steps that we're going to state below.
If you're using the Facebook app and getting the quick access feature when tapping on the search button then follow the step below.
All you have to do is download the other version of Facebook i.e. Facebook Lite you can download it from the Google Play Store or App Store.
After downloading the Facebook lite you can see that there is no Quick access feature appearing at the top of the Facebook search.
That's it if you want to get rid of Quick Access on Facebook then this is the easiest and most effective way to do so.
Also Read: Easy Way to Fix "I can't Collaborate on Instagram" Problem