Steam is one of the most used and worldwide known gaming platforms but many users complain about the downloading speed of Steam. Well, if you're also one who isn't satisfied with Steam downloading and wanted to know how to speed up Steam Downloads then read the following article properly.
Here we will be going to tell you about how to speed up Steam downloads on windows PC using some easy steps. So if you're also interested in this article then read the full article properly and follow the steps given in the guide below.
Steam is used by millions of PC gamers around the world to download and play games. But as we all know with time modern games even required more than 100 GB of space to download. Well, before playing or managing the space all that lies between is downloading to download such large games you need ultra-speed internet or Wi-Fi.
But sometimes even with a high-speed internet connection you still won't be able to download the game fast or you feel like it is taking a whole day to download. If this is the case with you well then for you we bring a quick and easy guide that will help you to speed up your Steam Downloads.
Easy Ways to Speed up Downloads in Steam
Below are some easy and simple ways to quickly speed up your Steam downloads on PC:
Fix #1: Close all unnecessary Background programs
The first and most easy way to speed up your steam download is by closing all unnecessary background running apps to do so follow the steps below:
Press "Ctrl + Alt + Delete" and select option Task Manager.
Right click on all unnecessary programs running on the background and select option "End Task" to close them.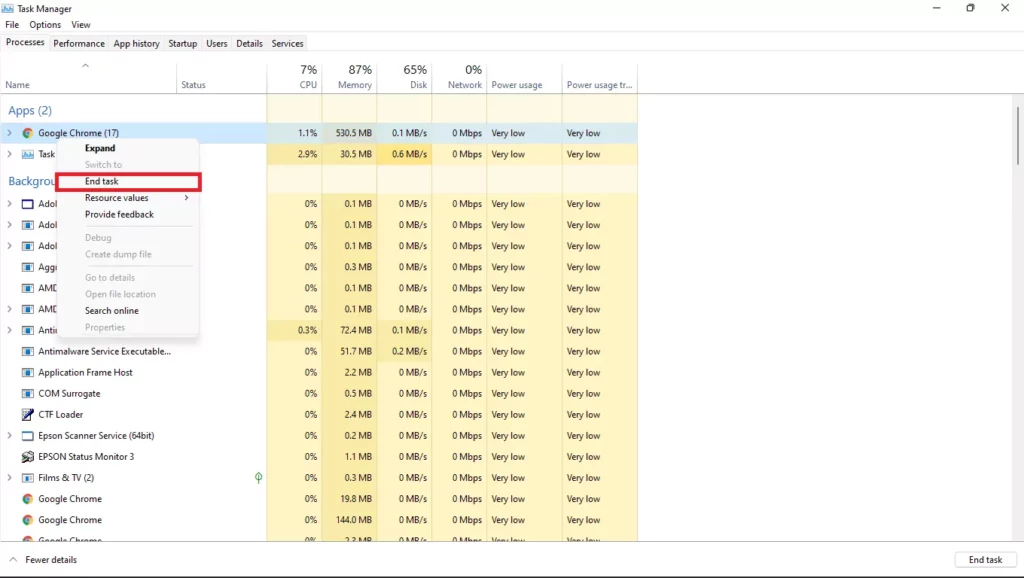 Now go to the bottom of task manager and click on "Open Resource Monitor" and then select the option "Network tab" now see if there is something else that is hogging or slowing down you network speed if not then it is all ok.
In case there is some app slowing down your Network bandwidth then you should close it as well by right click on it and selecting the option "End Process Tree" from the option menu.
After this, it is likely that your Bandwidth speed is faster now and your steam downloads will also speed up. If you're still facing a problem then move to the next fix below.
Fix #2. Turn Off your PC Antivirus and Firewall
PC antivirus can be the main reason why you're facing problems with your PC downloads. So we recommend you try downloading after turning them off. To turn off your PC antivirus and firewall follow the steps below:
Go to the windows search bar and search "firewall".
After searching click on the "Windows Defender Firewall" option from the search results.
Now from the left menu select the option "Turn Windows Defender Firewall on or off."
Atlast click on the check box after "Turn off Windows Defender Firewall," option and then confirm your choice by clicking OK.
Fix #3. Optimize the Internet connection you're using for your PC
Many of you may not have fast wifi or internet connections but optimizing your internet connection can result in a great speed boost. So we recommend you try optimizing your internet connection before downloading on Steam.
Try using an Ethernet connection while downloading something on your PC as sometimes Wi-Fi doesn't give you the full speed of your internet so it is recommended to use LAN wires for download. And after connecting LAN make sure that your PC LAN drivers are up to date and if not then update them quickly to speed up steam downloads.
Fix #4. Prioritize Steam Downloads
Another way with which you can speed up your Steam downloads is by Prioritizing Steam downloads. To do so follow the steps below:
Run Steam on your PC and open Task Manager by pressing "Ctrl + Alt + Delete".
Search for Steam Client from the list and right click on it.
Select the option "Go to Details" from the menu.
Right click on SteamService.exe" process and set its priority to "High."
Note: By doing the above steps you will prioritize your Steam downloads over other running downloads these steps may not boost your downloading speed that much but still it is effective for many. Also, settings will be reset after shutting down your PC so you have to follow steps again whenever you need to download and prioritize Steam Downloads.
Conclusion
Steam is one of the most used gaming platforms around the world so if you're facing slow downloads then we recommend you to follow the steps given above for speeding up your Steam downloads. If your problem doesn't get solved after following the guide above then feel free to contact us.
Also Read: How to Sell a Game on Steam: Full guide to Sell Game