Snapchat is a social media platform that has been used by outnumbered users around the world but there are still some things that users don't know how to do it. One of the questions that many Snap users ask is how to make a Public profile on Snapchat.
If you're also one of the Snapchat users who has been wondering about how to make a Public Profile on Snapchat. Then you're at the right stop here we will tell you everything about it through an easy step-by-step guide.
There are many features that Snapchat introduced recently and one of the features is to make Public Profile but didn't we have that thing already? Well, to know about it more in detail we have to go through the full article.
What is Snapchat's Public Profile?
If you don't know anything about the Snapchat Public Profile then before searching about how to make one first you've to know what it is. Well in short if we have to define it then we can say that the Public Profile on Snapchat. Lets you show your content to all Snapchat audience and help you to create an audience.
Getting more and more views and followers on social media applications is one of the dreams for many Social media users and on Snapchat, you can do it by making your Snapchat profile Public.
By doing so you will let every Snap user able to see and watch your content including Photos, Videos, Stories, and More.
Are you Eligible to create a Public Profile on Snapchat?
Well if you talk about the eligibility for making a Snapchat Public profile then anyone can make it. There is no particular eligibility to create an entry-level or tier-1 Public Profile. Anyone who is using Snapchat for more than a few months can easily create a Public Profile.
To get a Public Profile that is tier 2 and comes with Analytics and insights for your content. You will need to have at least 5000 Subs and apply to Snapchat's program using a Google form available on their website.
Also Read: What does other Snapchatters mean on Snapchat?
Difference Between a Public Profile and Going Public
Both Going Public and having a Public Profile are like opposite sides of a coin so don't get confused and mismatch the definition of both. To understand both the terms just take a quick read below.
Going Public:
Going Public on Snapchat means that everyone on Snapchat can get access to your content and can see all your stories and posts on Snapchat. Even the people who aren't on your friend list.
But the main thing that differentiates Going Public and Public Profile is that users should know your Snapchat username without a username the user won't be able to visit and view your content on Snapchat.
Public Profile:
On the other hand, the Public profile is a bit different there is no limitation for the audience. You can get access to an audience from around the world everyone can see your content there is no limitation for the users.
Anyone from any location and without a mutual friend can get access to your content which leads to a greater audience and is most favorable for content creators.
How to Make a Public Profile on Snapchat?
To make a Public Profile on Snapchat follow the steps below:
Open Snapchat App on your device.
Go to the profile icon on the left top corner of the screen.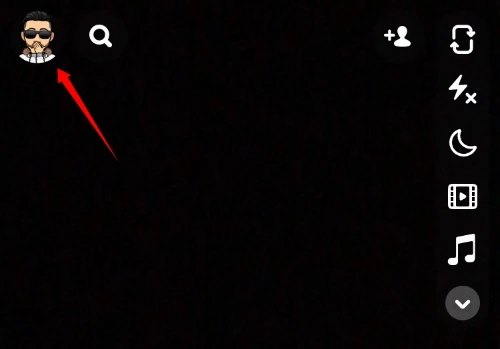 Tap on the three dots next to the "Add to Snap Map" option under the stories option.
Now tap on the option Create public profile.
All the features of the Tier 1 Public profile will be introduced to you now click on the continue option.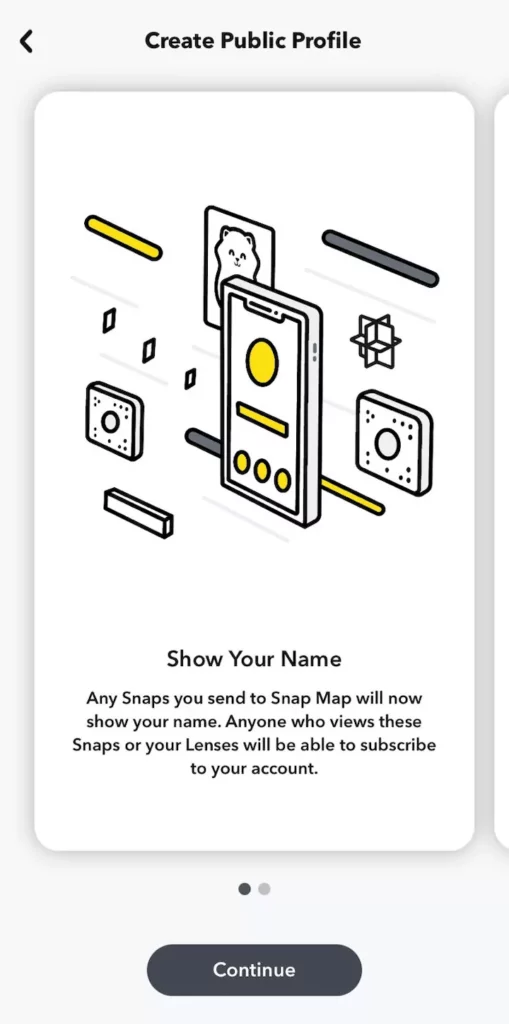 After that tap on the Get Started option.
Snapchat will now show you a disclaimer about creating a Public Profile for one last time. Tap on 'Create' to proceed to the next step.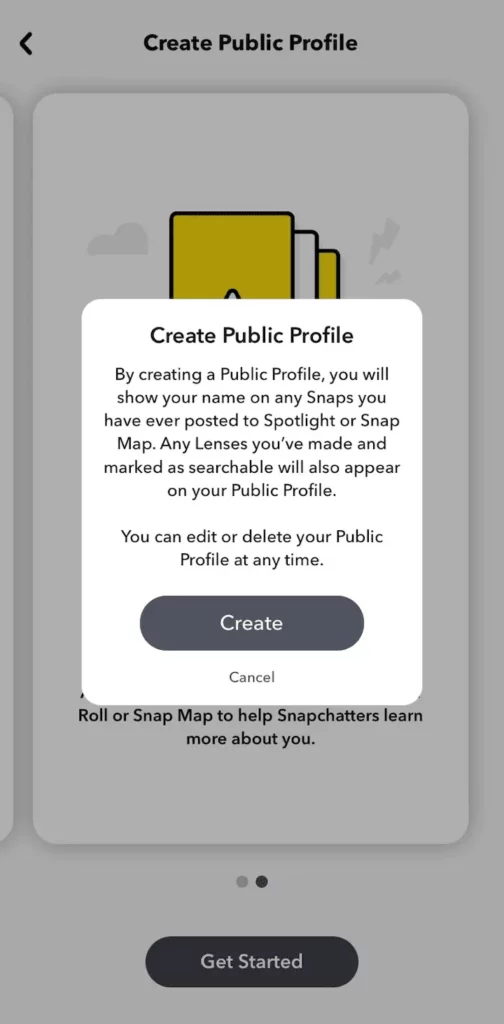 Now you will be taken back to the settings page and a new section "Public Profiles" will be added, under it you will find an option "My Public Profile" Tap on it.
At last tap on the Edit Profile option to edit the details of your Public Profile.
That's it after following the above step-by-step guide you will be able to make a public profile on Snapchat easily.
How to Go Public on Snapchat?
Now that you know how to make a Public Profile. Maybe some of you want to drop the idea and just want to go public on Snapchat. If this is the case with you then follow the below given guide to go public on Snapchat.
Open Snapchat App on your device.
Tap on the Profile icon at the top left corner of the screen.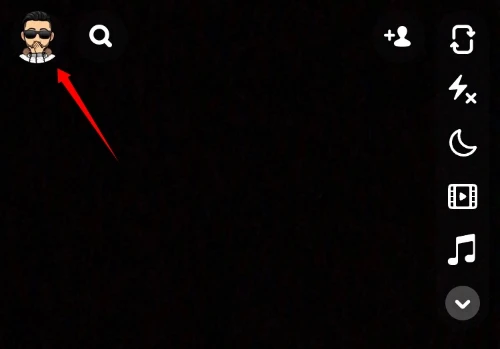 Now tap on the 'Gear' icon in the top right corner again.
Scroll down and find the "Who Can" section and made the following changes to each setting.

Contact Me: Everyone
Send Me Notifications: Everyone
View My Story: Everyone
See My Location: My Friends
Use My Cameos Selfie: Everyone
See Me in Quick Add: Turned On

Now Restart your Snapchat App and you're ready to go.
Conclusion
From the following article, you can easily make a Public Profile on Snapchat so just follow the steps we have given above. If you still face any problems then feel free to contact us we will try to reach you as soon as possible.
Also Read: How to get Snap Streak back in Snapchat Full Guide