Snapchat is one of the most popular social media applications in the world. It has millions of active users that use the app daily. But sometimes the app doesn't work well or shows some unnecessary errors to the users. And one such error that many Snapchat users reported while trying to install the app from Play Store is "Your device isn't compatible with this version".
If you're also one who is facing the not compatible error while trying to install or update Snapchat on your device. Then you're at the right stop here in this article we will be going to tell you how you can easily fix this error.
Mostly this not-compatible error occurs when you are using an outdated device or an old device. That is running on an old software or OS. But still, many users recently reported that even they have a new device that is compatible with the Snapchat application. But they're still facing this error issue while trying to download the Snapchat app on their Android device.
So if you're also one of these users who is using a modern device. With an updated OS and still can't able to install Snapchat on Play Store. Then to solve it just read the following article and try out the fixes we're going to state below.
Why it is showing "Your Device isn't Compatible with this Version"?
Only Android users know this error that occurs on their Google Play Store while trying to install applications. This error mainly shows when you use an old device that is now outdated for new applications and versions.
The error can also be shown up if the OS system of your Android phone is outdated. Like when you haven't updated the software of your Android phone. So it is best to keep the software up to date while trying to install applications on your device.
Which Devices are not Compatible for Snapchat?
If you have doubts that your device is compatible or not download the Snapchat application. Then read this section here we will list all the devices and software that are not compatible to run the Snapchat app. So if you match the following criteria then you will not be able to use the latest version of Snapchat instead you have to download and install the old version of the app.
As you all know there are mainly three types of mobile devices currently owing by people around the world. i.e. IOS, Android, and Windows. So if you own an IOS device then all devices that are running on iOS 10 or later are compatible to run Snapchat.
If you own an Android device then all Android devices that are running on Android 6. 0 or later are eligible to install and run Snapchat Application. You can check out your device Software details in device settings and if you see any update pending then we recommend you try updating your device and see if the software version gets higher than 6.0 or not.
And in case you own a Windows phone that is running on Windows 10 then your device is compatible to run Snapchat. If your device is running software below Windows 10 then you might not be able to install Snapchat on your device. Also, if you own any Blackberry or devices from that old time then you must know that your device isn't compatible with the latest version of the Snapchat Application.
How to Fix the "Your Device isn't Compatible with this Version" Snapchat Error?
There are several ways using which you can fix the "Your Device isn't compatible with this version Snapchat" error on Android. Here we will only be going to state the most effective and easiest ones you can try to fix and install Snapchat on your Android device.
Fix #1. Update Your Android Device
The first fix you need to try is to see if there is any pending software update for your device. And if there is then update your device now and see if now you can install Snapchat or not. As we already stated the Android version below 6.0 isn't compatible to install and run Snapchat. So it is necessary to have a device with the software above Android 6.0.
To Update the System Software Follow the Steps below:
First, make sure that you are connected to a fast Wi-Fi network.
Open your device's settings.
Now go to the "System/Software Update" option.
Go to the System Update option.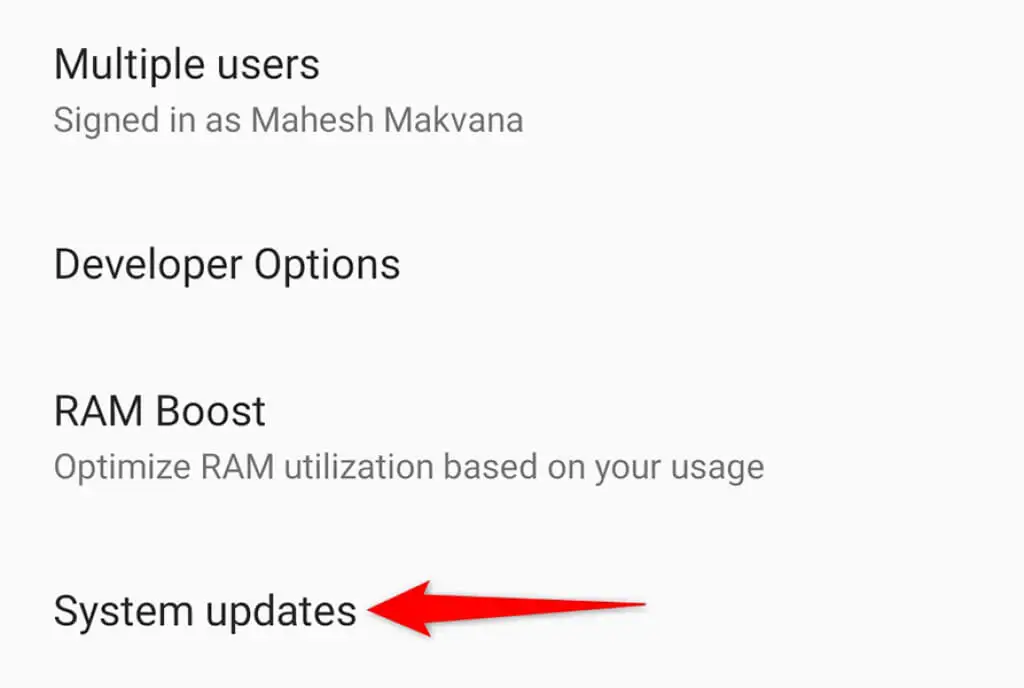 Now see if there is any pending update that needs to be downloaded. If yes, then click on the install button and update your device to the latest Android version.
Fix #2. Update Google Play Application
If there is no pending software update for your device then you might need to update your Google Play Store App. An outdated play store application might lead to such incompatibility problems. So it is best to check if your Google Play Store application needed to be updated or not.
To Update Google Play Store follow the steps below:
Open your Device's Play Store Application.
Click on the profile icon from the top right corner of the screen.
Go to the settings option.
Scroll down and click on the "About" option.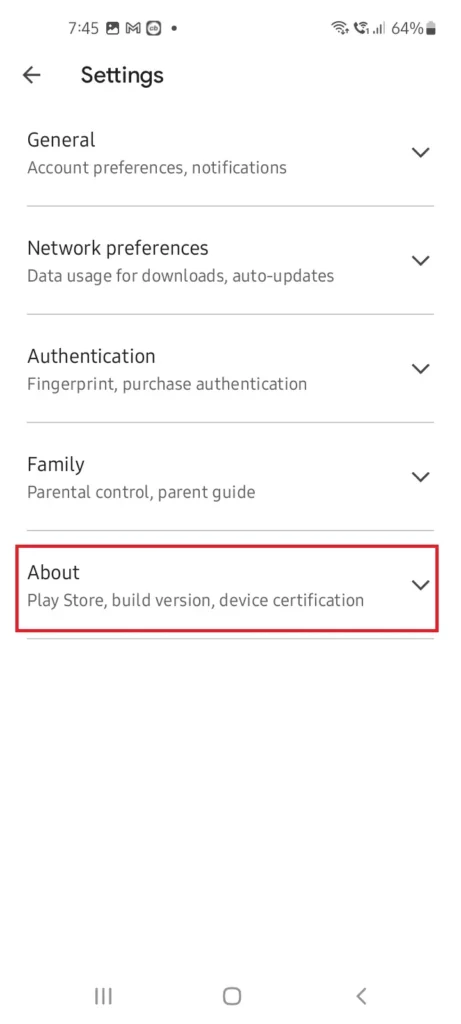 At last, under the Play Store version option, you will see if the update is available or not. And if the update option is showing install it.
After updating the Play Store application try installing Snapchat again. And see if you're still getting the "Your Device isn't Compatible with this Version" Error.
Fix #3. Delete Play Store Cache Files
The next fix you can try out is clearing the cache files of the Play Store application. Sometimes corrupted cache files can be a reason for such error issues. So it is better to try clearing the cache files to see if the issue is fixed.
To clear cache files of Play Store follow the steps below:
Go to your Phone's Settings option.
Find the option Apps and click on it.
Now from the apps list find Google Play Store and then click on the Storage option.
Select the option "Clear Cache".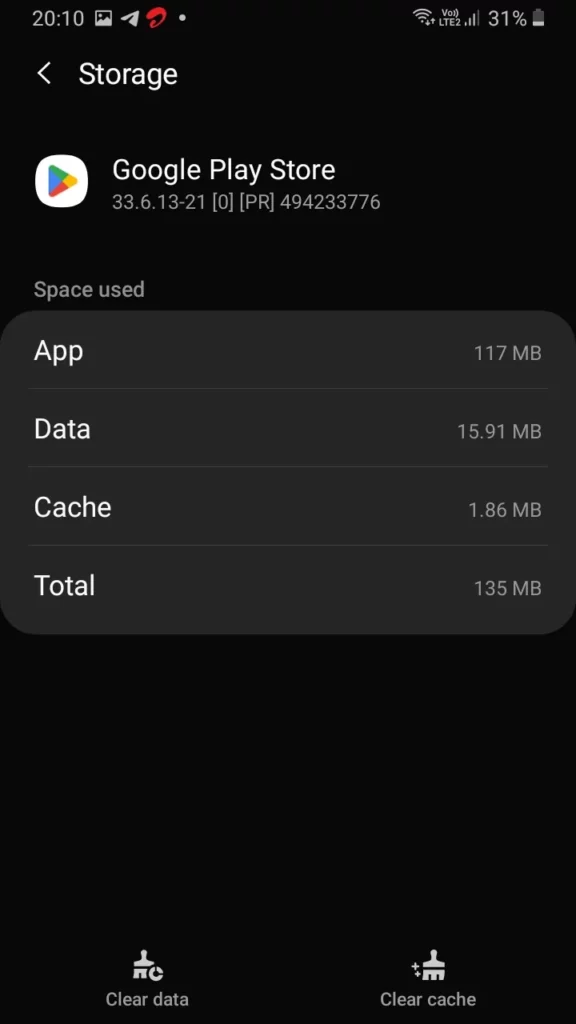 Fix #4. Download Snapchat APK File
If you're still unable to install the Snapchat application from Google Play Store. Then you can try installing the APK file of Snapchat. An APK file is an Android Application Package file. It's the file format that Android uses to distribute and install apps. As a result, an APK contains all the elements that an app needs to install correctly on your device.
You install the APK file from all over the internet through different service providers or websites like APKPure, APKCombo, APKAward, etc. Just open your search engine and write down "install Snapchat APK file". Go to the first link and install the file on your phone.
That's it you can also choose the version of the app you want to download on the device. This is a very effective way to tackle installing the app on a device without using the Google Play Store.
Conclusion
In the above article, we discuss How to fix the "Your Device isn't Compatible with this Version Snapchat" Error. But in case you still have doubts and want our further guidance then feel free to contact us anytime. We will try to reach out and help you as soon as possible.
Also Read: