Microsoft Surface pro X is the new touch screen laptop from Microsoft. It is a 13″ inches touch display laptop, Microsoft comes up with its refreshed version of its previous one. The company didn't make many changes but a little this 2020 model of Surface Pro X is powered with an updated Microsoft SQ2 processor.
Microsoft also promised better performance and longer battery life with its new processor. This 2020 model of Microsoft Surface pro X costs about $1,499.
The main updated feature in this 2020 model is Windows on ARM app support which is much improved from last year's model. Now users can run most of the apps better than the previous one.
Microsoft Surface Pro X
If we talk about the body and design of the new 2020 Surface Pro X model then we can differentiate nothing from the previous year model as Company is still using the same 13″ inches PixelSense touchscreen display with a 3:2 aspect ratio and trimmed down bezels.
New Microsoft Surface Pro X contains two USB-C ports and a Surface Connector. This time also Microsoft didn't come up with a headphone jack and MicroSD slot as well. But the one bonus in this 2020 model is that the company gives pop open a door on the back that provides access to the nanoSIM slot and replaceable SSD.
It contains 16GB of RAM and comes in two variants of removable SDD i.e. 256 GB or 512 GB. If we talk about connectivity the new 2020 model powered with WiFi 5, Bluetooth 5.0, and supports the LTE network.
Pro X 2020 comes with a new SQ2 chipset, a variant of Qualcomm's Snapdragon 8cx Gen 2 5G. But there's no 5G support in this 2020 model, we will see the old LTE network support in this model also.
The company is offering a new color variant for this 2020 model, the classic "platinum" silver which is also available on no. of other Surface devices. Like the previous year this time also the surface keyboard comes with the slim Surface Pen for $269.99 or if you wanted to buy the keyboard individually then it will cost $139.99.
Good and Bad Stuff
Good Stuff
Beautiful Looks and Design: The new 2020 model of Microsoft Surface Pro X comes with a new Attractive and beautiful design. It also comes with a new color option also.
Lightweight and portable: Dimension and weight of the new 2020 model are 11.3 x 8.2 x 0.28 inches and 1.7 lbs (774g) Respectively. Which is a good one for any 13″ inches laptop.
Good Battery life: Microsoft claimed that the battery life of the new Microsoft Surface Pro X is 15 hours on typical usage condition which is much better than most other laptops.
Bad Stuff
High Price: This new 2020 model is very expensive, It costs $1,499 which is too much for any laptop with the same specifications.
No 5G Support: The main disadvantage or we can say bad stuff in this new Surface X model is no 5G support, It is going to feature with LTE network only which is the greatest drawback of this laptop.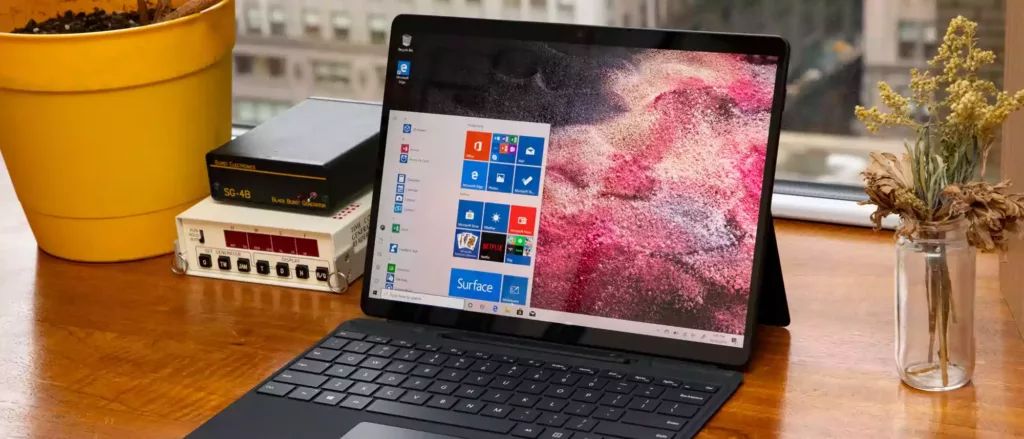 Is It Worthy To Buy?
In my point of view, you should think twice before buying this new 13″ inches touchscreen laptop. It costs too much compared to other products available in the market with the same specifications. which is a major drawback of this laptop.
The main upgrade feature by the company is its ARM app support which is improved than last year's model by which now users can able to download most apps better than the previous one.
In short, there are some good and some bad stuff but in my point of view it is not that worthy to buy, it costs too much there are many other options available in the market with the same specifications and lower price.
To buy from Microsoft Click Here.
To buy from Best Buy Click here.