Discord is one of the most famous and used voice, video, and text chat apps around the world. Discord is used by people to voice talk and message with friends and family online. Most users use the application to talk with their friends while playing online games.
While using Discord many users love to play and experience different bots available on the platform. And one such famous Discord bot is Eunseo Bot. Eunseo Bot is a bot where you can play card game that is fun and easy to play. You can play the Simple and fun Gacha Card game with your friends using Eunseo Bot on Discord.
Discord users can play the game on the Eunseo bot with k-pop groups and soloists. The bot brings you new events every day with some exciting new challenges. This will keep its users active and engaged with the bot.
Now that's about the Bot features and functions but the real question is what are the Eunseo Bot commands? Like what commands you can give the Eunseo Bot so that it will work according to your desires and need.
If you're looking for the same answer then you're at the right stop. Here in this article, we will be going to tell you everything about Eunseo Bot along with the Eunseo Bot commands that you can use to play and enjoy the bot.
But before moving to the main topic and discussing the commands let us first talk about the Bot briefly below.
What is Eunseo Bot? What are its Features?
There are literally thousands of different bots available on Discord. Where each one of them has its unique use and feature that users love to enjoy. Eunseo bot is just like the other bots available on the platform. This bot features the Gacha card game with users' most loved soloists and k-pop groups.
So if you're also a fan of K-pop then this gaming bot is for you. The bot brings you new events every day with some exciting new challenges. The bot offers its users the latest features in the gameplay that keeps the players occupied and enjoying playing it.
The main feature of the bot is that it offers users to collect gems every day. The collected gems can be used by players to purchase new things and modify their cards. In-game players also have the function to modify their inventory and select the items they want to keep or not.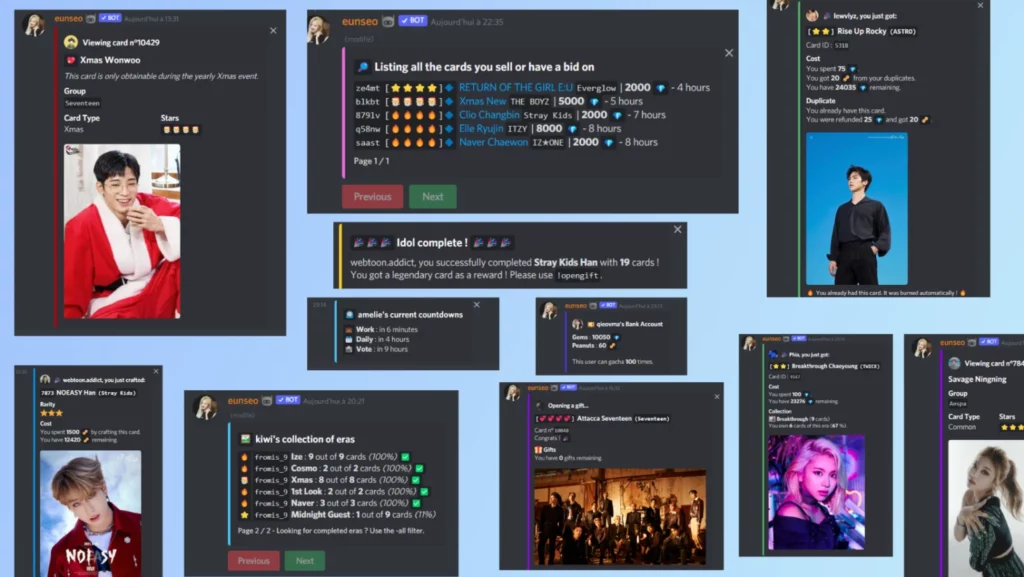 Eunseo Bot Commands on Discord
Following are the Eunseo Bot commands that you can use on Discord while playing games on the Eunseo Bot:
!help action
!help reaction
!help anime
!help club
!help config
!help currency
!help fun
!help info
!help misc
!help manager
!help marriage
!help mod
!help music
!help utility
How to Use Eunseo Bot on Discord?
Now that we know everything about the Eunseo Bot let us start discussing how you can use the bot on Discord. As we all know this bot features a Gacha card game related to K-pop and Soloist. So it is not that difficult to play the game using the Eunseo Bot. All you need to follow the below steps to play the game on Discord:
Collect Gems: By using: !daily, !work, !vote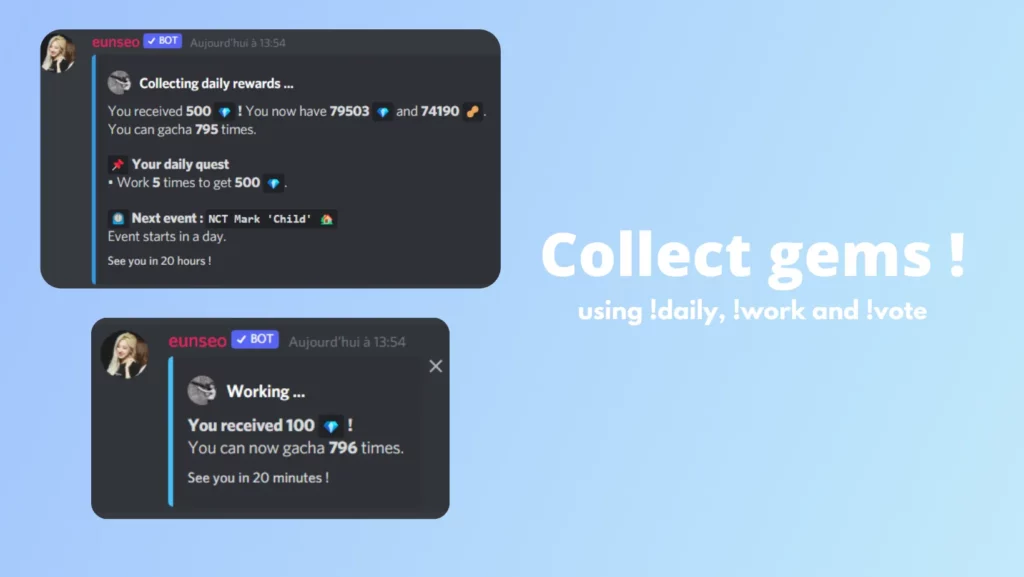 Get Gacha Cards: By using: !gacha
Trade And Buy Cards: By using: !trade, !auc
Complete Your Favorite Groups: Get legendary cards as a reward!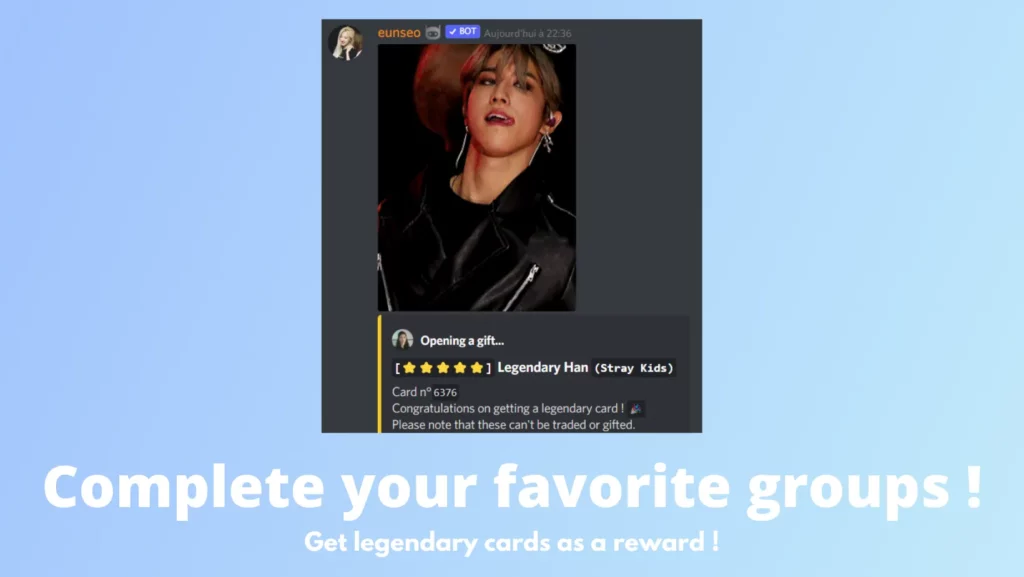 That's all it's not rocket science but a simple Gacha card game that anyone can play by following the above steps given. It's really this easy to play, K-pop Gacha bot on Discord. 
How to Fix Eunseo Bot Not Working Issue?
There might be a time that you face the Eunseo Bot not Working issue well this can be a common problem for you. If yes, then what should you do how you can fix this problem? If you're also wondering this then read the following section and get your answers clear.
The Eunseo Bot not working issue might occur due to the bot server being down or because of your internet connection. Whatever the case there is a way to fix it. All you have to do is first make sure that your internet connection is stable. And if it isn't then change to another network connection and see if the problem is solved.
Another way to fix the problem is by checking on the Invite Tracker Support Community Server. Also, make sure that you've given all permission to the invite tracker server to work properly. You can modify the permission settings by going through the settings tab of Discord.
Conclusion
In the above article, we discuss "What are Eunseo Bot Commands on Discord". But in case you still don't understand the article and want our further guidance then feel free to contact us anytime. We will try to reach out and help you as soon as possible.
Also Read: