Instagram is one the most popular social media app around the globe used by millions of users. But still many users have questions about the App and one of the most frequent questions asked by Instagram users is How to Unread messages on Instagram?
Well, if you're also the one who is asking for the same question How to unread messages on Instagram then you're at the right stop. Here we will tell you every trick through an easy guide that will help you to unread messages on Instagram easily.
There are likely to be two types of Instagram users one is who is holding and operating their business account and another one is who is using Instagram for their personal use. As for the business account owners, the trick is quite simple but as for the personal account users you have to do some work to unread your Instagram messages successfully.
There is a special in-app feature to unread Instagram messages but sadly it is only available for people with Bussiness Accounts. So if you don't have one then sadly you cannot use this feature but don't worry we have many other ways also.
just read this article properly and you will understand about it.
How to Unread Messages on Instagram with Bussiness Account?
If you have a business Instagram account and are finding solutions to unread messages then you're quite lucky as there is a way to do so. just read the below method to do so.
Business account holders can easily unread any messages lying in "Primary" or "General" Tabs. But to be honest this option is only a one-way solution as the sender can still able to see that you've already read the message.
But the advantage of marking a message as unread is that you can highlight that message for yourself and can anytime open it to read the message. Follow the steps below to mark a message as unread on Business Account: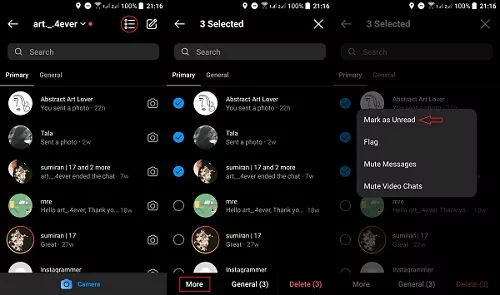 Open Instagram App on your Mobile device.
Login to your Instagram Bussiness account.
Swipe left or click on the Chat icon at the top right corner of the screen.
Now from the upper right corner press the selecting icon.
Now select the conversation you wanted to mark as unread.
Atlast from the drop down menu tap on the option "Mark as Unread".
After following the above step you can easily mark your conversation with anyone as Unread on your Instagram Business account. But one thing that you've to keep in mind is that you can mark the messages as Unread just for you which means another person or sender can still see that you've already seen the message.
How to Unread Messages on Instagram without Bussiness Account?
Now that you get to know about how to unread messages on Instagram with a Business account all that is left is to know how can you unread messages without a business account. Well in short there is no in-app option to do so.
You have to do some tricks so that you can unread someone's message. The first solution is quite simple just convert your Instagram id to a business account and try the above solution we mentioned.
But maybe you don't want to do so then the other in-app solution for your problem is by restricting the Instagram account. Whenever you restrict someone on Instagram, the messages from that person will be marked as message requests and hence, even if you read them, they will not be marked as read.
All you have to do is find the person account whose message you want to mark as unread. and then go to the profile of that person and tap on the three dots at the top right corner of the screen. A pop-up menu will open and now all you just have to do is select the "Restrict" option.
Now you're all done by tapping on the restrict option you can finally mark the message by the sender as unread even when you've already read them.
Conclusion
Instagram is one of the best and most used social media platforms around the world. But still, there are many questions that aren't answered and are unknown by many users. One is How to unread messages on Instagram.
If you're a business account holder then it is quite simple for you to do so but if you're a non-business account holder then that means you have to restrict the person whose messages you wanted to mark as unread.
You can just follow the methods and steps we have mentioned above to do so.
Also Read: HOW TO SEE WHO SAVED YOUR INSTAGRAM POST? EASY WAY TO DO SO