Snapchat is known for its amazing and cool features that no other social media apps offer. And one such recently launched amazing feature is its Snapchat Wrapped feature. Where users can see a quick review of all the snaps and activities that they have done on the app for the past year. But it is not possible that all people will be able to enjoy the feature equally. Many users reported that they're facing the "Snapchat Wrapped not Showing" issue.
So if you're also one who is facing the same problem and wanted to fix the "Snapchat Wrapped Not Showing" issue. Then you're at the right stop here we will tell you some easy and quick fixes to solve it. Also if you don't have an idea about this feature yet then we will tell you everything you want to know about it.
But before we move to the main topic and started talking about the fixes to the problem. Let us first talk about what exactly the Snap Wrapped feature is and what are the causes behind Snapchat Wrapped not Showing issue.
What is Snapchat Wrapped 2022 Feature?
Snapchat Wrapped feature is just like YouTube Rewind or Spotify Wrapped feature. Where the app shows its users the best and most memorable moments they have spent this past year. Just like other apps, Snap Wrapped 2022 is the same. It shows the users the most popular moments and snaps that they have taken and shared this past year.
Snapchat Wrapped is very popular among its users as the users felt enjoy looking back on the memories that they've made in the last 12 months.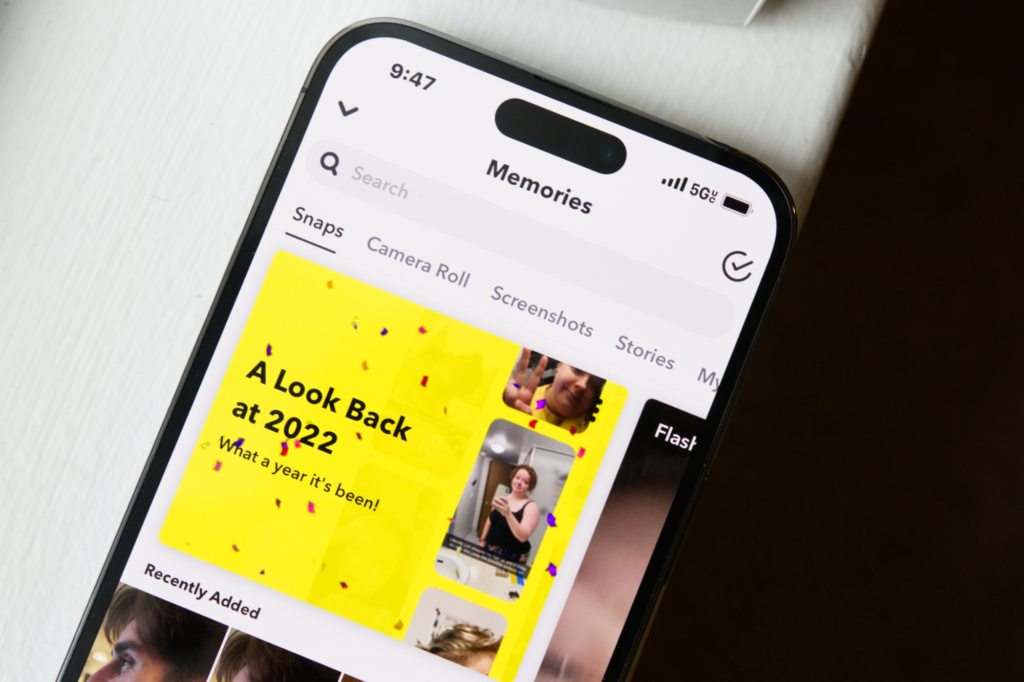 Where to Find "Snapchat Wrapped" Feature?
If you now understand the Snap Wrapped feature. But don't know where you can find it then read the below step-by-step guide and check out your Snapchat Wrapped 2022.
Before checking the Snap Wrapped make sure that your Snapchat app is updated.
Now open the updated Snapchat app on your phone.
From Snapchat Camera screen swipe up to see the memories and Snaps you have saved.
There you will get the option saying "A Look Back at 2022".
Click on the "A Look Back at 2022" option and to see your Snapchat Wrapped.
What Causes the "Snapchat Wrapped Not Showing" Issue?
There are mainly two reasons that Snapchat stated can be behind this issue. The causes behind the "Snapchat Wrapped not Showing" Issue is:
If you don't have enough saved memory on Snapchat in 2022. Then the app will not be able to show you Snap Wrapped 2022.
New users that haven't made enough memory on the app yet can't be able to see Snapchat Wrapped 2022.
Snapchat stated these two reasons behind not showing the Snapchat Wrapped 2022. But one another common reason that may cause this problem is:
Snapchat App is not updated.
How to Fix the "Snapchat Wrapped Not Showing" Issue?
To fix the "Snapchat Wrapped Not Showing" issue try out the below-given solutions:
Fix #1. Make Sure that your Snapchat App is Updated
Before moving to any other fix the very first thing that you need to make sure of is that your Snapchat Application is updated.
To check if your App is outdated or to update your Snapchat app follow the steps below:
Open the Play store/App store on your Mobile.
In the search bar type "Snapchat".
Now check if the app is showing the update option or not.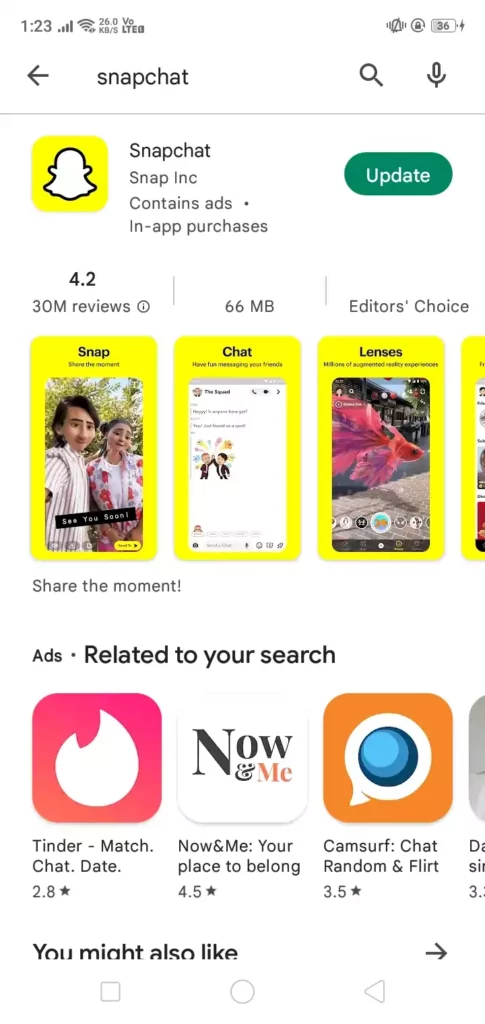 If it is showing the update button next to the app name then click on it to update the application.
After updating the app follow the above section steps to find your Snapchat Wrapped and check if you're able to see it or not. And if you still aren't able to check your Snapchat Wrapped then move to the next fix below.
Fix #2. Check If you have Enough Saved Memories on the App
After updating the app the next thing that you need to make sure of is that you have enough saved memories on the app. Here we're talking about the snaps that you shared on Snapchat. In case you only use the app only to chat then it is possible that the app doesn't have enough memories to show to you.
So you need to make sure that you've saved enough memories not just 2 or 3 snaps for a whole year. As the developers or app require enough information or snaps to show you a whole year's memory.
If you don't have enough snaps saved or memories on the app then there isn't anything you can do. All you can do is save enough memories from now on so that you will be able to see the Snapchat Wrapped 2023.
Check if the app has enough memory or not and if you've saved enough snaps on the app. If but still don't see the Snapchat Wrapped then move to the next fix below.
Fix #3. Contact Snapchat Customer Support
If you have updated the app and checked that you have enough memories on the app. Then the problem might be from App's side. And there isn't anything that you can do about it all you can do is Report your problem to Snapchat Support.
To contact Snapchat Support click here. After you are redirected to their support website all you need to do is explain your problem. And wait till the Snapchat team contact you back and solve your problem.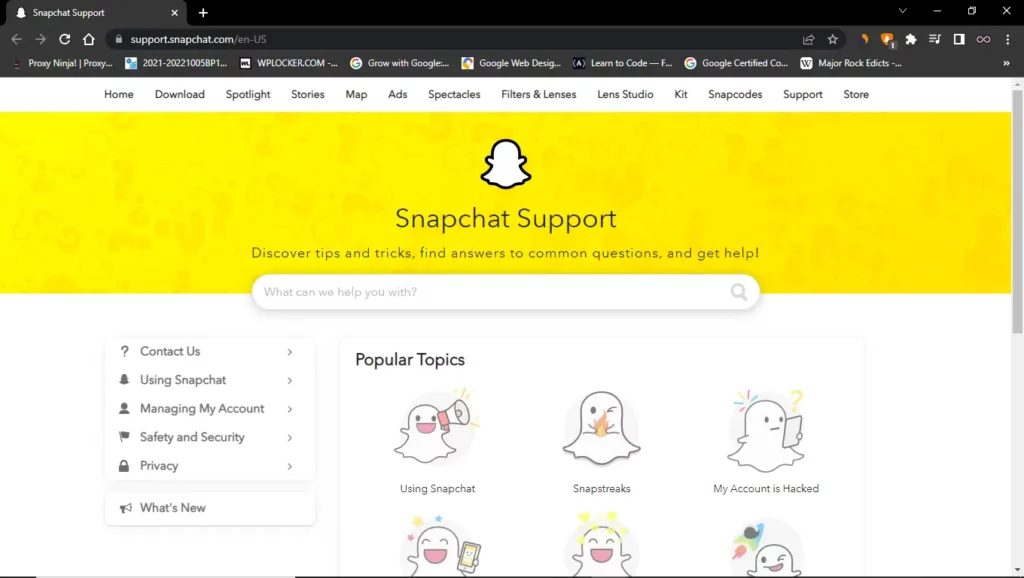 Conclusion
In the above article, we discuss the fixes to solve the "Snapchat Wrapped Not Showing" Issue. But in case you still can't fix your problem and want our further guidance then feel free to contact us anytime. We will try to reach out and help you as soon as possible.
Also Read: